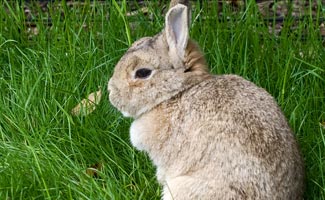 Adopt-an-Animal: Rabbit
Rabbits are social animals sometimes finding companionship with guinea pigs, cats, dogs and humans. Come and visit our rabbits and their companions in the Children's Zoo at the San Francisco Zoo.
Your Adopt-an-Animal donation will be used to support these cute fury friends and further the San Francisco Zoological Society's mission to connect people to wildlife, inspire caring for nature and advance conservation action.
All sales are final.
Adopt Me Today






Rabbit
Snow Leopard
Ring-tail Lemur
Southern Sloth
Magellan Penguin
Sumatran Tiger
Squirrel Monkey
Scorpion
Black Rhino
Zebra


Reticulated Giraffe
Lowland Gorilla
Chilean Flamingo
Red Panda
Lion


Grizzly Bear