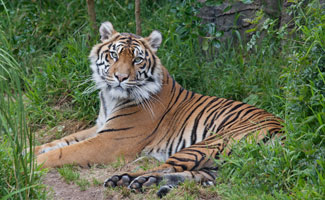 Adopt-an-Animal: Sumatran Tiger
Sumatran tigers are critically endangered. In fact, there are estimated to be fewer than 300 of them in the wild. Our 9-year-old female Sumatran tiger has had two litters in five years, so we're thrilled to be able to contribute to the population of these majestic animals. For every tiger adoption sold in April and May 2013, the San Francisco Zoological Society will contribute to the Tiger Conservation Campaign.
Your gift will be used to support the San Francisco Zoological Society and further our mission to connect people to wildlife, inspire caring for nature and advance conservation action. An adoption of a Sumatran tiger can make a great gift for friends, coworkers, family or for yourself!
All sales are final.
Adopt Me Today






Rabbit
Snow Leopard
Ring-tail Lemur
Southern Sloth
Magellan Penguin
Sumatran Tiger
Squirrel Monkey
Scorpion
Black Rhino
Zebra


Reticulated Giraffe
Lowland Gorilla
Chilean Flamingo
Red Panda
Lion


Grizzly Bear