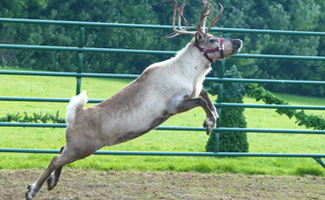 SPECIAL Adopt-a-Reindeer!
Belle, Holly, Peppermint and Velvet have returned to the San Francisco Zoo and they will be on exhibit from November 24 through New Year's Day. Take this opportunity to become one of their adoptive parents and Adopt-a-Reindeer today. What a special way to celebrate the holiday season!
A $75 donation to Adopt-a-Reindeer includes:
San Francisco Zoo drawstring backpack
Certificate of Adoption
Reindeer plush
8x10 photograph of adoptive reindeer
San Francisco Zoo Reindeer pin
San Francisco Zoo Collector's bracelet
Adopt-an-Animal sticker
Your gift will be used to support the San Francisco Zoological Society and further our mission to connect people to wildlife, inspire caring for nature and advance conservation action. An adoption of a reindeer can make a great holiday gift for friends, coworkers, family or for yourself!
All sales are final.
Please click Submit only once.