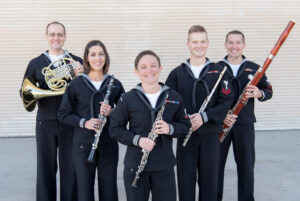 Fleet Week is back and we're honored to host one of San Francisco Fleet Week's Association's Navy Band performances as part of their Neighborhood Band Concert Series.
We are honored to host the Woodwind Quintet, "Prevailing Winds," one of Navy Band Southwest's chamber ensembles and is comprised of flute, oboe, clarinet, bassoon and French horn. They will be playing popular patriotic selections.
Their performance takes place on Tuesday, October 4th from 12 p.m. to 12:45 p.m. in the plaza across from the Lemur Cafe and adjacent to the flamingos.