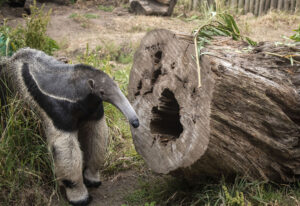 Many animals that come from biodiverse regions in Central and South America can be found here at SF Zoo, particularly at the Puente al Sur (Bridge to the South) and South American Tropical Rainforest and Aviary habitats, and of course on Penguin Island where we have the most successful breeding colony of Magellanic penguins found in North America. As such, we invite you to celebrate National Hispanic Heritage Month by learning more about the many incredible species that reside here, like the two-toed sloth, Giant anteater, amphibians such as the poison dart frog, and diverse bird species like the Chilean flamingo or yellow-crowned Amazon.
Hispanic Heritage Month actually starts in mid-September and runs through mid-October, to coincide with the Independence Day celebrated by several Central American countries. While the observation celebrates generations of Hispanic Americans, traced to over 20 countries. and their many achievements and contributions, we also want to bring awareness to these biodiversity hotspots, where so many animal and plant species are indigenous, and sadly, endangered due to deforestation and human activity.
As part of Hispanic Heritage Month, we will spotlight many of the animals found in key regions on social media and in our e-newsletter, Animail.