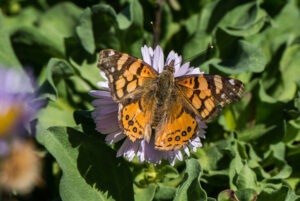 June 20-26 is National Pollinator Week! More than 20,000 species of insects, birds, bats and other animals contribute to the pollination of wildflowers and crops. National Pollinator Week is a time to celebrate pollinators and spread the word about what we can do to protect them.
San Francisco Zoo & Gardens is an excellent place to see busy beetles, bees and hummingbirds in action. Top spots are Gail's Fragrance Garden, the Exploration Zone Butterfly Garden, and Green's Conservation Corner. Don't forget to visit the Insect Zoo to see all the activity that goes on inside a working honeybee hive.
Our friends at the U.S. Fish and Wildlife Service created a page on their web site dedicated to California pollinators – the Mission blue butterfly, Bay checkerspot butterfly, Kern primrose sphinx moth and Myrtle's silverspot butterfly. Here, learn more about these striking pollinators and download some cool coloring sheets! The color-by-numbers will provide you with some quiet time and give your family an opportunity to learn about beautiful pollinators in California!
Happy National Pollinator Week!