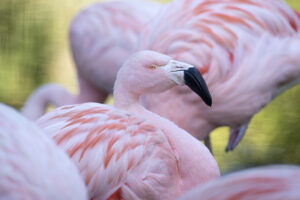 Pink Flamingo Day is June 23! AZA's SAFE Andean Highland Flamingo and SF Zoo & Gardens celebrates Pink Flamingo Day to raise awareness about the world's six flamingo species and the opportunity to protect and conserve the three that live in South America's Andean Highlands – Andean, Chilean and Puna (James's) flamingos. These tough birds can handle extreme hot and cold conditions. Most people are unaware of the world's flamingo diversity, and that some flamingos live at elevations of 15,000+ feet in the Andes Mountains of South America – not just in coastal tropical habitats.  San Francisco Zoo & Gardens is home to Chilean flamingos, a successful breeding colony that is located just outside the Leaping Lemur Cafe at the end of Zoo Street.
SF Zoo & Gardens is a proud partner with the SAFE Andean Highland Flamingo program and supports the recovery and conservation of Andean, Chilean, and Puna (James's) flamingos through research, public engagement, training, community outreach, and education. 

Did you know that you carry flamingos' homes with you? The lithium that powers your cell phone battery is mined from flamingos wetland habitat. No wetlands? No flamingos. So, hang onto your phone instead of upgrading with each new model.
To learn more about Andean Highland Flamingo conservation programs, visit AZA's SAFE page and Andean Highland Flamingo page.
Think pink and wear pink to show your support!