New Test Page
We have several restaurants offering a variety of food options – from classic grill items such as 100% grass-fed burger and beef franks, to brick-oven pizza and fresh salads made daily with locally-sourced and seasonal ingredients. Dipping' Dots Ice Cream carts and pretzel stands are also stationed around the Zoo, as well as pop-up carts with caffeinated and adult beverages. Enjoy our outdoor dining experiences with picnic tables sanitized after every use, located near the dining area.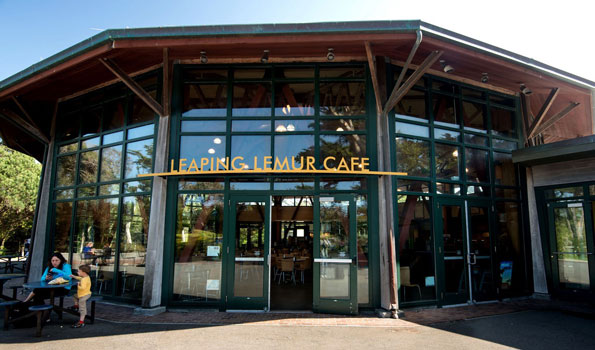 Zoo Restaurants
Leaping Lemur Café
The Leaping Lemur Café is open for take-out food and beverages items until further notice. At this time, seating is limited to outdoor seating and picnic tables only as indoor facilities are closed as part of our safety measures. In addition, we are thrilled to introduce mobile ordering featuring touchless payment and pick-up. Click here to check out our menu. Please wear a face covering and wait your turn at the order table in a socially distanced queue line. At this time, seating is limited to outdoor seating and picnic tables. We can also host your birthday party at the Leaping Lemur Café.
The Station Pizza Parlor
The Station Pizza Parlor is located near the Little Puffer steam train depot and has outdoor seating overlooking the bear exhibits and Eagle Island. The Station Pizza Parlor Menu.
Café Playfield
Please note that the Café Playfield is currently closed. Thank you for understanding.