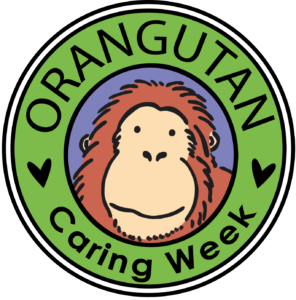 Join us for Orangutan Caring Week, November 13-19, as we celebrate this truly amazing endangered Great ape species.
Each day at 3:30 p.m., meet an orangutan specialist in front of the Great Ape Passage who can answer questions and share information about our Bornean orangutans and what is being done to save their wild counterparts.
Learn new things every day of this important awareness week!
Sunday, Nov. 13 – How do you measure up to an orangutan?
Monday, Nov. 14 – What does an orangutan eat in a day?
Tuesday, Nov. 15 – How long do orangutans live?
Wednesday, Nov. 16 – Orange for Orangutan Day – Find what's orange throughout the Zoo! Join us for an orangutan party and learn, are orangutans clever?
Thursday, Nov. 17 – How does an orangutan go to bed?
Saturday, Nov. 19 – Why are orangutans endangered?
Orangutan Superheroes Don't Wear Capes! 
Orangutan Caring  Week is dedicated to encouraging people to care about saving orangutans and to help support all of the groups of people, and organizations doing incredible work. The primary threats to orangutans include habitat loss and fragmentation, fires, illegal hunting and trafficking.
How YOU can help! 
Support the Orangutan Foundation. Your donation will support their work in:
Habitat protection/restoration
Orangutan rescue/release
Scientific research
Education & capacity building
Support the BOS Foundation. Your donation will help them:
Acquire protected forests for the release of rehabilitated orangutans
Aide the team rescuing orangutans from conflict and the illegal pet trade
Provide support to surrogate mothers who nurture orangutan orphans at Forest School
Help veterinary staff with life-saving medical procedures