About the Zoo
The San Francisco Zoo is designed with the underlying belief that nature-focused interaction leads to conservation action. Learning about animals here inspires visitors to care for all wildlife.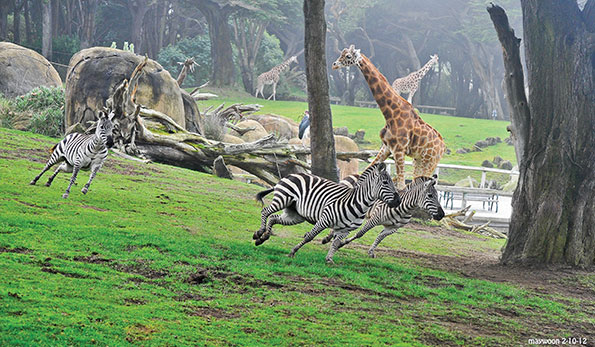 Nestled against the Pacific Ocean, the San Francisco Zoo is an urban oasis. It is home to over 2,000 exotic, endangered and rescued animals representing more than 250 species and lovely peaceful gardens full of native and foreign plants.
The majestic Leanne Roberts African Region and the Valentine Family Savanna offer a multi-species landscape with giraffes, zebras, kudu, ostriches, storks, and more. At Hearst Grizzly Gulch, visitors can get nose-to-nose with rescued grizzly sisters Kachina and Kiona. Lemurs leap through the Lipman Family Lemur Forest, the largest outdoor lemur habitat in the country. Penguin Island is home to the largest colony of Magellanic penguins outside of the wild. The Zoo's troop of gorillas lives in the lush Jones Family Gorilla Preserve. Farm animals for feeding and petting can be found in the popular Fisher Family Children's Zoo. The historic 1921 Dentzel Carousel and the 1904 miniature Little Puffer steam train are treasured by generations of visitors. And the reimagined Elinor Friend Playground offers accessible playtime for all ages. The SF Zoo offers an engaging experience for its guests, including fun rides, educational programs and exciting events throughout the year. The SF Zoo is proud to be accredited by the Association of Zoos and Aquariums (AZA).