Family & Adult Programs
Families that Zoo together, care, connect, and conserve together. Our Family and Adult programs provide fun learning opportunities for all.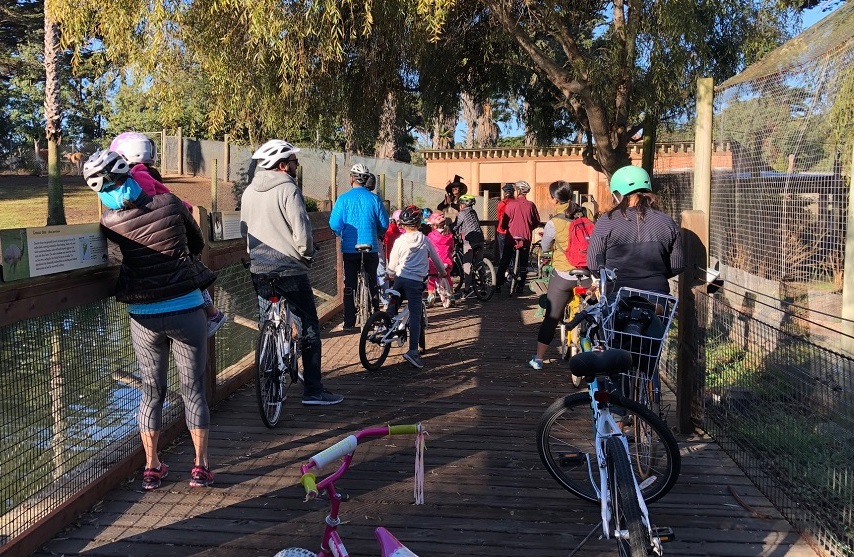 Ocean Explorers
6 – 10 year-olds + 1 adult
Dive in to discover the incredible diversity of our world's oceans! During this mixed-age program families will investigate our connections to marine habitats and animals through hands-on activities, stories, science experiments, and more! The journey will begin at the Coastal Conservation Center overlooking the Pacific coastline and continue in the Zoo as we learn how all living things rely on healthy oceans.
Registration includes 1 child and 1 adult. Children learn by watching the adults in their lives, so we encourage and expect adult participation to help nurture your Ocean Explorer's connection to wildlife.
2020-2021 Season
Class Days/Times:
Select Saturdays
10:00am – 12:30pm
Fees:
Includes 1 adult and 1 child
SFZS Members – $30 per child/adult pair 
Non-Member – $45 per child/adult pair
Additional Adult – $15
*Pre-registration required
Fees include Zoo admission 
BikeAbouts
Pedal your way through the Zoo during these 90-minute riding tours! Our knowledgeable staff will be your guide as they share fun animal facts and conservation stories. During the ride you may see a sleepy tiger yawning, a grizzly going for a swim, or a group of monkeys joining together in an early-morning symphony. Tours are offered monthly from April – October, 8:30am – 10:00am.
Join us for extra-special BikeAbouts on Mother's Day and Father's Day only! During these programs, bike tours will focus on what maternal and paternal care look like throughout the animal kingdom. Stick around after the tour for a tasty continental breakfast until 11am!
Have a date in mind that you don't see on the calendar? Contact us to schedule a private BikeAbout for groups of 10 or more riders!
Pre-registration required.
Participants must provide their own bikes. No strollers or scooters, please.
Includes Zoo admission.
Upcoming BikeAbouts
Saturday October 14
Fees: Includes Zoo admission
Family BikeAbouts 
SFZS Member – $20 per peddler 
Non-Member – $30 per peddler
FREE for children piggy-backing on an adult's bike
Mother's and Father's Day BikeAbouts 
SFZS Member – $35 per peddler 
Non-member – $45 per peddler
FREE for children piggy-backing on an adult's bike
Wild Places, Wild Things!
Conservation Speaker Series
Local and international conservationists provide inspirational talks about world-wide conservation efforts. Don't miss the opportunity to connect with scientists and learn about how they are saving wildlife.
Have a Question? Send an e-mail to [email protected] or call (415) 753-7073.
Please check our Calendar of Events for upcoming lectures.
Registration
not required.
Fee
Free with Zoo admission
Wildlife Illustration
Develop your drawing skills with our new illustration workshops! Your instructor, Illustrator Mark Simmons, will cover a few art basics before you head into the Zoo to see your animal subjects in real life! During each class, participants will create a finished illustration based on a theme. Basic materials will be provided, but feel free to bring your favorite supplies too. Whether you're a practiced artist or a curious first-timer, these workshops are a whole new way to appreciate the natural world!
Upcoming 2021 Dates:
TBD
Class Days/Times:
Select Saturdays
10:00am – 3:00pm
One-Day Workshop Fee:
SFZS Member – $60 
Non- member – $75 

Pre-registration required.
Basic art supply use included.
Parking included.