Animal Connections & Feedings
The best way to learn about the animals is to see them interact with their keepers and to hear first-hand about their care and wellness. Must-see feedings? Grizzly bears and penguins.
Lectures, events, classes, special features, and more.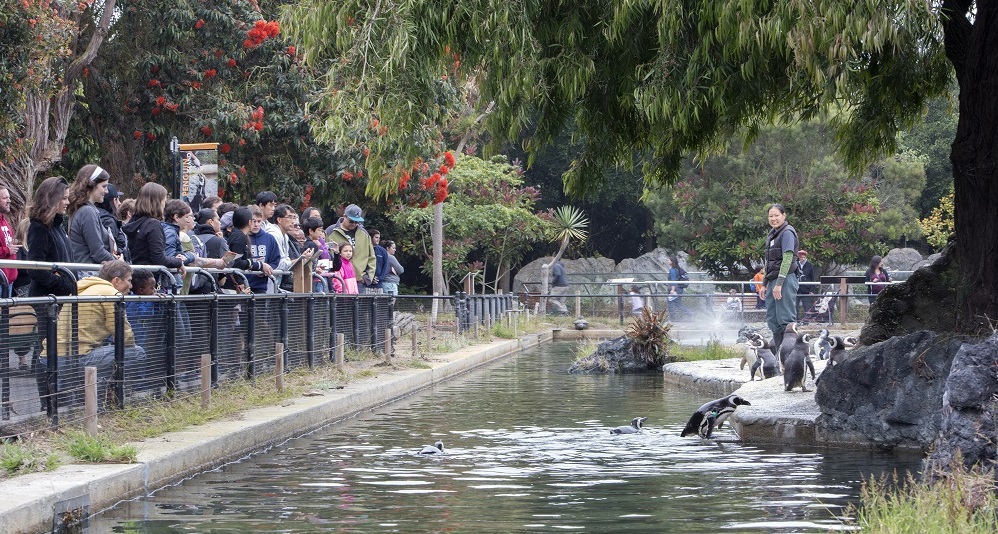 Animal Connections
| | | |
| --- | --- | --- |
| 10:30 am | | Penguins, Penguin Island |
| 11:00 am | | Family Farm Opens |
| 3:30 pm | | Penguins, Penguin Island |
| | | |
Other Encounters and Attractions
Lion House:
Temporarily closed
Feed a Giraffe! – Temporarily suspended
Thursday – Sunday and some holidays
11:00am to 1:00pm
$5.00 (cash only)
Subject to animal participation
Acacia Plaza next to the Giraffe Lodge
Throughout the Zoo
Around every corner, there are opportunities for learning and fun at the Zoo.
Docents: You'll find uniformed docents throughout the Zoo who are eager to answer your questions, tell stories, and share their wealth of information.
Bio-fact Carts: Docents and youth volunteers staff carts filled with bio-facts of many different animals. See and touch fur, bones, and teeth, and learn about the fascinating physiology of our animals.
Storybooks and more: Don't forget to pick up a keepsake Zoo Key to use in our Talking Storybooks throughout the Zoo. Other must-do's: Ride the Eugene Friend Dentzel Carousel and the Little Puffer miniature steam train, and let the kids run out all that energy at the Elinor Friend Playground.
Zoo Manners
To ensure your visit to the Zoo is safe and pleasant, please follow the guidelines below.
Respect the animals.
Our animals are wild and possess all their natural instincts. You are a guest in their home. They are sensitive and have feelings.  Please do not tap on

 

glass, cross barriers, throw anything into habitats, make excessive noise, tease them, or call out to them.Please report any disturbance to wildlife by calling (415) 753-7069 immediately. Be advised to not disturb free-roaming animals such as peafowl and our wild visitors, such as gulls and other birds.
Do not toss coins.
Coins in water are very harmful to animals, so please do not toss coins into habitats, pools or streams. Instead, donate your change to conservation at donation boxes around the Zoo.
Service animals only.
Pets can spread diseases to our animals. No dogs or other pets are allowed on Zoo grounds, except service dogs. Service dogs may be taken to any area in the Zoo except where animals are free-roaming.
Smoking is not allowed anywhere on Zoo grounds.
Authorized transportation only.
Strollers and wheelchairs are available for daily rental in the Friend and Taube Family Entry Village, so please leave your bicycles, tricycles, scooters, skateboards, and rollerblades at home.
Photo guidelines.
Photography is welcome, but always stay safely behind any barriers and remain in the public areas at all times. Selfie sticks are never allowed to be held over barriers at any time. The Zoo does not permit photos of its animals to be sold for profit or used for any commercial purposes without prior consent.