Volunteer Programs
If you have a sincere interest in animals and conservation, enjoy working with people, and are enthusiastic and dependable, our Volunteer Programs are for you.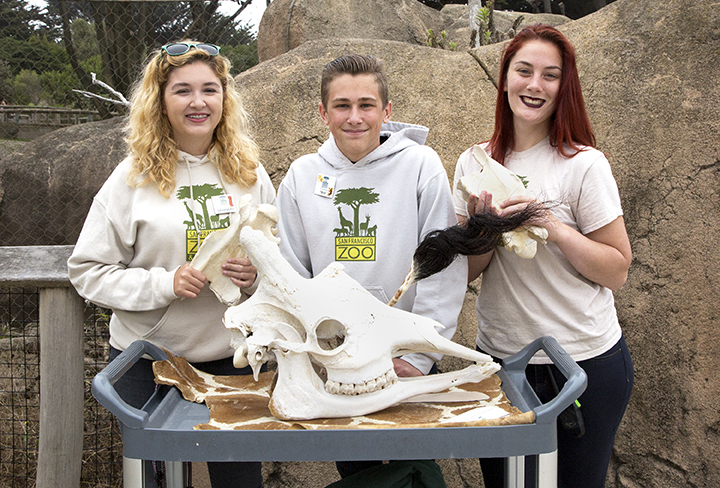 Renew the Zoo
Spend a Saturday beautifying the Zoo.The role of the Zoo's Horticulture Department is more than just to create beautiful gardens for the animals and visitors, it is also to help spread the message of habitat conservation and vegetation management.
Participation means:
Weeding and clean-up to eliminate the need for harmful pesticides
Meeting new people of diverse backgrounds and all ages who share your commitment to conserving the Earth's plant and animal species
Sharing your expertise and developing new skills and interests
Becoming part of San Francisco Zoo's history
Contributing to the ongoing development and improvement of the Zoo
Getting really, really dirty
Who can volunteer?
Adults and children (adult:child ratio must be at least 1 adult per 5 children).
When can I volunteer?
The second Saturday of March, June, September, and November, from 8:00 am to 11:00 am Please be prompt. We will be closing the gates at 8:15. No late entries allowed.
Where do we meet?
Meet by the old entrance gate on Sloat Blvd. and 45th Avenue.
What do I wear?
Something warm and comfortable that you don't mind getting dirty. The Zoo provides tools and work gloves, but if you have work gloves, bring them just in case. Please wear sturdy work shoes.
Have a Question? E-mail [email protected].
Sponsoring a Corporate Renew the Zoo Event
Groups of all sizes can sponsor a private Renew the Zoo day for their companies. At a Corporate Renew the Zoo day, your group works as a team to complete Zoo projects that ultimately benefit our Bay Area community. In addition to having fun and building team camaraderie, your group receives admission to the Zoo, refreshments and free ride coupons. Zoo staff coordinate each event to make sure that your group enjoys its day at the Zoo.
Have a Question? E-mail [email protected].
Volunteer Dates
Please be prompt. We will be closing the gates at 8:15. No late entries allowed.
Saturday, March 11, 8 am – 11 am (Canceled – rain out)
Saturday, June 10, 8 am – 11 am (SOLD OUT)
Saturday, September 9, 8 am – 11 am (SOLD OUT)
To sign up e-mail [email protected]
Adult Volunteers
Would you like to make a positive impact in our Zoo? Volunteering at the San Francisco Zoo can be a fun, educational and rewarding experience. We have volunteer opportunities in our Family Farm, Animal Resource Center, Events, and other Zoo departments. Learn more by attending any one of our upcoming orientations.
Minimum Requirements for Adult Volunteers*:
You must be at least 18 years of age.
You must attend a volunteer orientation.
After being accepted into one of our volunteer areas, you must successfully pass a background check. There is a non-refundable administration fee for the background check. Additional fee for international background checks.
There is a uniform fee of $30.00.
A minimum commitment of 6 months.
Meet at the bronze tiger statue in the Entry Village circle at 9:50am. Orientations are from 10am – 12noon. Please be on time; late arrivals will not be allowed to attend the orientation. You do not need to pay for zoo admission or parking to attend the orientation.
*These opportunities are only for individual volunteers. If you are looking for group volunteer opportunities, please see Renew the Zoo.
Have a Question? E-mail [email protected] or call (415) 753-7122.
Docents
Become a docent and inspire future conservationists. Docents support our mission by connecting guests to wildlife through informative talks, biofact presentations, and school tours. You can be a part of a vibrant community of volunteers who care about conserving wildlife. You'll meet new friends and learn all about animals from Zoo staff.
To be a docent, you must be at least 18 years of age. Attend the Docent Orientation to better understand the Docent Program and Docent responsibilities. To become a docent, you must participate in our training program, offered annually. This 10-week comprehensive course covers public speaking skills, conservation messages, Zoo history and operation, animal care and wellness, and taxonomy. Docents are required to volunteer 10 hours per month.
Contact us to learn how to get involved before the next training class, to register for the course, or to learn more about our Docent Program.
Have a Question? E-mail [email protected] or call (415) 753-7122.