Leanne B. Roberts African Savanna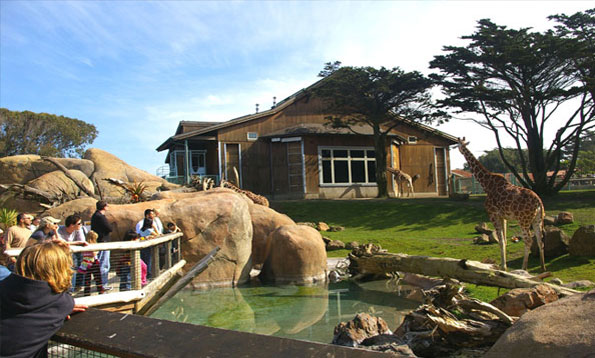 The three-acre, mixed-species Leanne B. Roberts African Savanna habitat brings animals closer to the public than ever before. After entering a covered passageway, visitors emerge in the Donga – the middle of the Savanna – where they are surrounded by giraffe, zebra, and kudu. African bird species including East and West African crowned cranes and ostriches also share this open-landscaped setting. Activities that usually take place behind-the-scenes have been brought forward, allowing the visitor to view how animals are cared for. The habitat features native African plants to reflect the beauty and diversity of the savanna environment, and was designed to give the animals room to interact and move about. A pathway leads visitors around the habitat, where several overlooks allow different viewing options.
Within the habitat, a walk-through African Aviary houses several critically-endangered species of birds, such as the Waldrapp ibis and the hamerkop.
At the South Savanna Overlook, you can make a donation to support the Laikipia Predator Project which seeks to reduce conflicts between ranchers and predators in order to ensure that the region can sustainably support both human and wildlife populations.
From the Leanne B. Roberts African Savanna, a pathway links visitors directly to the Jones Family Gorilla Preserve where they can experience Africa's largest primate.