Explore San Francisco Zoo & Gardens in a whole new way on a one-of-a-kind guided tour to learn more about our magnificent animals, lovely gardens and rich history.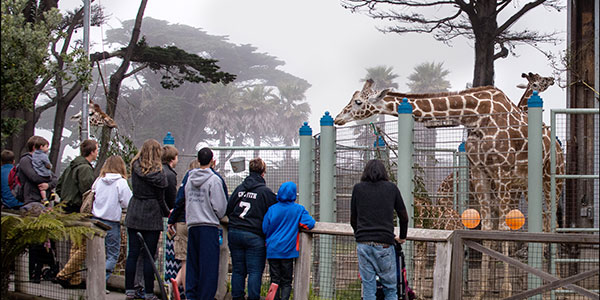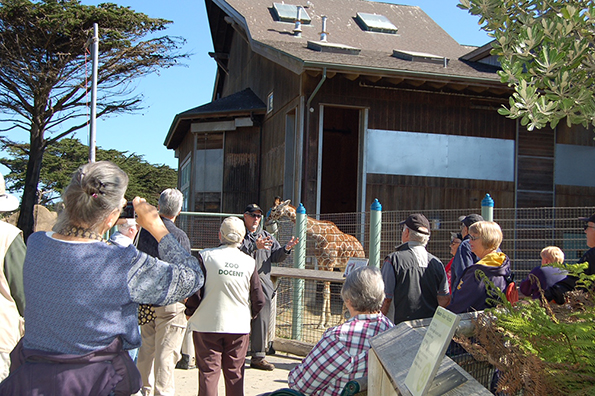 Senior Mornings Guided Tour
Enjoy a guided walking tour with almost the whole Zoo to yourself. Watch the animals that are active early in the day with a docent guide to answer your questions and offer fascinating insights into animal behavior. For guests 65 year and older.
First Thursday of the month
9:00 am
FREE for Senior level Members
$10. for non-members
Parking included
(Go to the Special Programs tab on the ticketing page; Members click on the Member Tickets for the discount)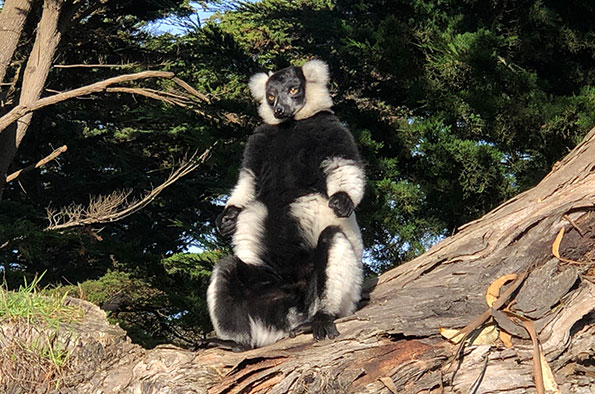 Zen at the Zoo
Imagine performing yoga poses as giraffe and zebra graze nearby, that is the ultimate zen! This year, SF Zoo is offering its first ever Zen at the Zoo, featuring Vinyasa Flow. This one-hour outdoor class will be conducted in the "Donga," the public viewing area that sits right in the middle of the Leanne B. Roberts African Savanna.
Dates
Sunday, June 11 (sold out)
Sunday, July 9
Sunday, July 23 (sold out)
Sunday, August 6
Sunday, August 20 (sold out)
Sunday, September 3
Sunday, September 17 (sold out)
Sunday, October 1
Sunday, October 15 (sold out)
Suitable for all skill levels of yoga practitioners, Vinyasa Flow unites breath to movement while offering a variety of poses. You will flow between postures while building strength, endurance, balance and mental focus. Expect a well-rounded practice involving sun salutations, standing and seated postures and a strong focus on the power of breath. Details here.
Members: $25 per session
General Public:  $50 per session (includes Zoo admission ticket for the full day)
(Go to the Special Programs tab on the ticketing page; Members click on the Member Tickets for the discount)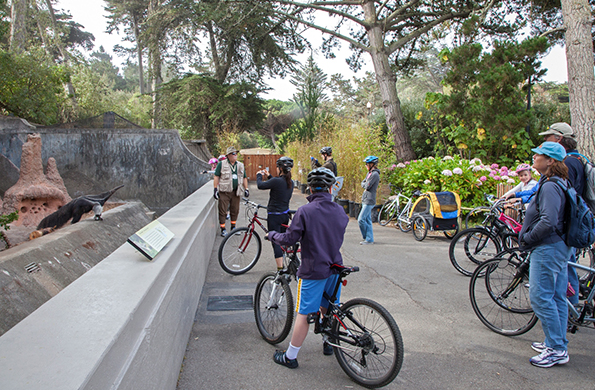 BikeAbouts
Pedal your way through the Zoo during these 60-minute riding tours! Our knowledgeable staff will be your guide as they share fun animal facts and conservation stories.
Tour dates and times
Sunday, May 14 – 9am (Mother's Day)
Sunday, June 18 – 9am (Father's Day)
Saturday, July 8 – 9am
Saturday, August 12 – 9am
Saturday, September 9 – 9am 
Join us for extra-special BikeAbouts on Mother's Day and Father's Day only! During these programs, bike tours will focus on what maternal and paternal care look like throughout the animal kingdom. Stick around after the tour for a tasty continental breakfast until 11am!
Have a date in mind that you don't see on the calendar? Contact us to schedule a private BikeAbout for groups of 10 or more riders!
Pre-registration required.
Participants must provide their own bikes. No strollers or scooters, please.
Tour Prices  
Family BikeAbouts
SFZS Member – $25 per peddler
Non-Member – $35 per peddler
FREE for children piggy-backing on an adult's bike
Mother's and Father's Day BikeAbouts
SFZS Member – $40 per peddler
Non-member – $50 per peddler
FREE for children piggy-backing on an adult's bike
Zoo admission is included. Proof of active Membership is required upon arrival.
Have a Question? Send an e-mail to [email protected]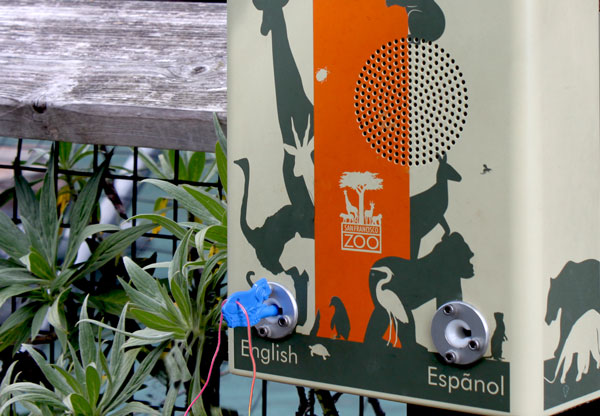 Zoo Keys
The ever-popular, interactive Storybooks have returned to the Zoo, activated by the beloved, plastic animal keys that have become nostalgic icons to visitors from years past. At Storybook sites around the Zoo, visitors can listen to multilingual recordings of stories and fun facts about the animals. You can purchase your Zoo Key onsite at the Admissions Gate or in the Membership Office or online. If you have an original key, you can continue to treasure it as a collector's item as it won't work with the new boxes.
Zoo Keys are $5 each