Visit SF Zoo!
This unique coastal zoological park is home to exotic, endangered and rescued animals in a serene setting, lush with local and native gardens, tranquil landscapes and dotted throughout its 100 acres with distinctive heritage structures.
Nestled in the southwestern corner of this famous city, SF Zoo & Gardens offers a safe, outdoor learning and recreational environment for families, young and old. Here, you experience first-hand the wonder of wildlife, seeing animals up-close, eye-to-eye, or interacting with one another in mixed-species habitats. A stroll through the many special gardens featuring native plants, flowers and trees and delightful themed graden will top off a wonderful day of discovery.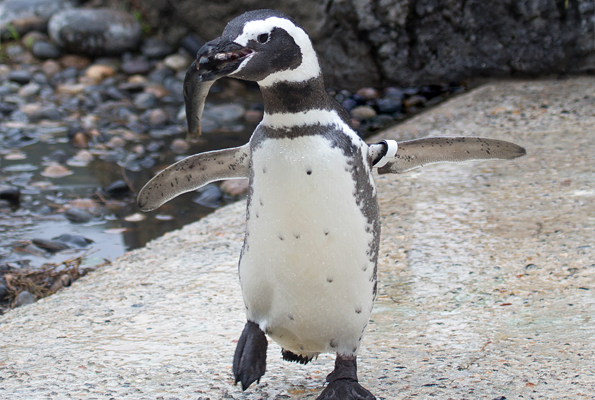 Throughout the Zoo
Around every corner, there are opportunities for learning and fun at the Zoo.
Interpretive Ambassadors: They are available to all our guests, as a resource for knowledge and understanding of the animal world that we nurture, and the delicate state of its survival.  You can easily spot one of our Ambassador's moving throughout the zoo, as they all wear a shade of purple shirt (lavender to eggplant) and khaki's.  Please let any Ambassador know if you have questions or concerns regarding any of our collection!  They will be happy to share their vast knowledge of our animals and guide you through understanding their conservation.
Docents: You'll find uniformed docents throughout the Zoo who are eager to answer your questions, tell stories, and share their wealth of information.
Bio-fact Carts: Docents and youth volunteers staff carts filled with bio-facts of many different animals. See and touch fur, bones, and teeth, and learn about the fascinating physiology of our animals.
Storybooks and more: Don't forget to pick up a keepsake Zoo Key to use in our Talking Storybooks throughout the Zoo. Other must-do's: Ride the Eugene Friend Dentzel Carousel and the Little Puffer miniature steam train, and let the kids run out all that energy at the Elinor Friend Playground.
Zoo Admission
For information on our rainy day policy see the FAQ's.
CityPASS ticket holders, present your CityPASS ticket at Zoo entry. Learn more about saving 46% with CityPASS®.
Guests planning to park in the Zoo's parking lot need to purchase a parking voucher on site on the day of your visit. Parking can be paid for three ways once you arrive at the Zoo.
1. At the ticket office windows when you arrive or when you leave
2. At the Carousel (when open) Little Puffer Train station (11am-4:30pm)
3. Scan the QR code on posters throughout the Zoo, pay online and retrieve an exit pass at the Gatehouse on your way out. Please note, paid parking is available on a first come, first serve basis.
See the parking fees in the right hand column. There is free parking on the street along Sloat Boulevard.
Disabled guests can still park for free with a disabled placard.
No in and out privileges.
 Zoo Policies
We value everyone's safety. For the safety and comfort of the animals and our guests we cannot allow the following items in the San Francisco Zoo
Please, no…
Straws, disposable lids, glass containers, balloons, pets
Radios, stereos, musical instruments, or any sound amplifiers
Solicitation material
Bicycles, tricycles, scooters, skateboards, rollerblades, or skates
Sports Equipment including but not limited to balls, bats, etc…
Alcoholic Beverages or any illegal substances
Firearms or any other weapons including but not limited to knives
Toy weapons of any kind
Please Respect the Animals
Do not tease or shout at the animals
Do not throw anything into the exhibits
Do not feed the animals
Do not cross exhibit or path barriers
Do not tap or bang on the glass
For the Comfort & Safety of All
Smoking/Vaping is not permitted anywhere on Zoo grounds
Pets are not allowed inside the Zoo (see below for service animals)
Please do not enter or damage the planted areas
Children ages 14 and younger must be accompanied by an adult at all times
Guests under the influence will not be allowed in the Zoo and will be asked to leave
Solicitation of any kind is not permitted on Zoo Grounds
Service Animals
Service animals only.  Pets can spread diseases to our animals. No dogs or other pets are allowed on Zoo grounds, except service dogs. Service dogs may be taken to any area in the Zoo except where animals are free-roaming.
Anyone in violation of these rules may be asked to leave at any time without a refund.
Any guest verbally or physically threatening anyone will be escorted from the property immediately without a refund.
 Zoo Manners
To ensure your visit to the Zoo is safe and pleasant, please follow the guidelines below.
Respect the animals.
Our animals are wild and possess all their natural instincts. You are a guest in their home. They are sensitive and have feelings. Please do not tap on glass, cross barriers, throw anything into habitats, make excessive noise, tease them, or call out to them. Please report any disturbance to wildlife by calling (415) 753-7069 immediately. Be advised to not disturb free-roaming animals such as peafowl and our wild visitors, such as gulls and other birds.
Please do not feed Zoo animals, peacocks, gulls, or squirrels.
Please do not let children stand on railings and fences.
Do not toss coins.
Coins in water are very harmful to animals, so please do not toss coins into habitats, pools or streams. Instead, donate your change to conservation at donation boxes around the Zoo.
Smoking is not allowed anywhere on Zoo grounds.
Authorized transportation only.
Strollers and wheelchairs are available for daily rental in the Friend and Taube Family Entry Village, so please leave your bicycles, tricycles, scooters, skateboards, and rollerblades at home.
Photo guidelines.
Photography is welcome, but always stay safely behind any barriers and remain in the public areas at all times. Selfie sticks are never allowed to be held over barriers at any time. The Zoo does not permit photos of its animals to be sold for profit or used for any commercial purposes without prior consent.
Some animals may not be on exhibit the day of your visit. They have indoor/outdoor access.