We have animals, lots of them, but we also have other entertainment for the whole family to enjoy. Here, find information on some of our popular attractions and make your plans today.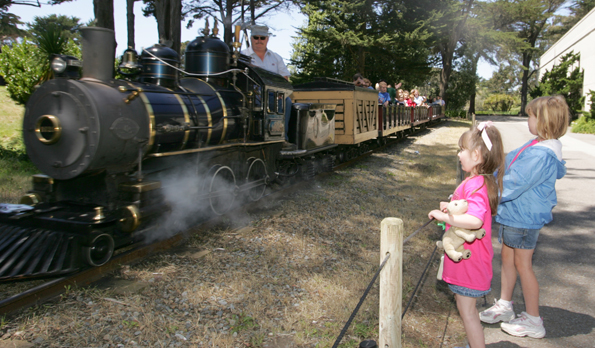 Little Puffer Miniature Steam Train
Add a ride on the historic Little Puffer miniature steam train to your visit to the San Francisco Zoo. Like generations before you, you'll make wonderful childhood memories for your kids. Little Puffer does not run in wet weather due to slippery tracks, and is periodically closed for maintenance. Call the Zoo before your visit. Click here for more Information on the Little Puffer.
Tickets are $7 per person
Children under 3 may ride free (ticket required) when accompanied by a paid adult.
A special passenger car on the Little Puffer miniature steam train is designed to hold a wheelchair.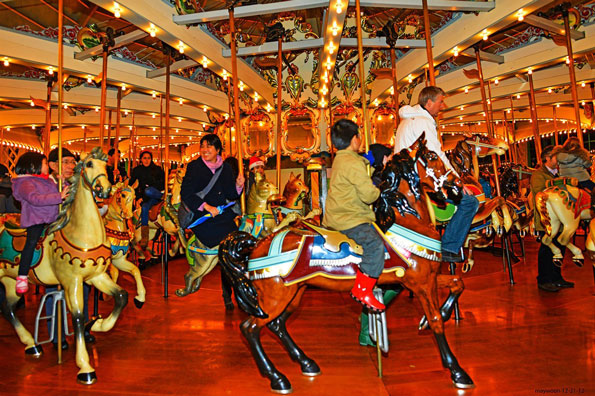 Dentzel Carousel
Our historic, restored 1921 Dentzel Carousel is located near the Fisher Family Children's Zoo. This unique merry-go-round delights kids of all ages as they choose to ride a horse, a cat, a rabbit, or even a giraffe. Click here for more Information on our historic carousel.
Tickets are $4 per person
Adults may ride free when standing by a paid child.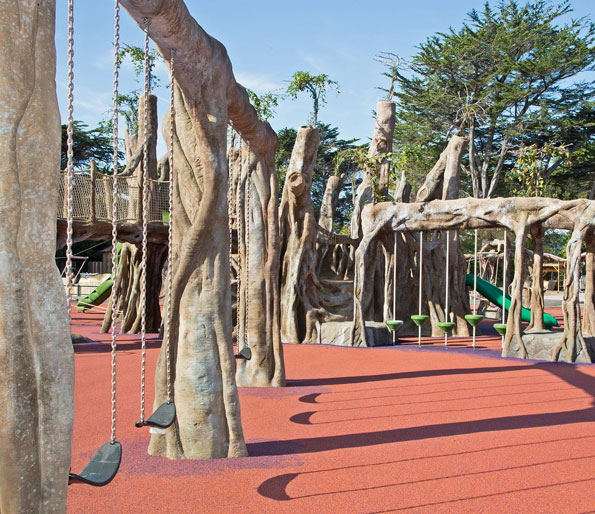 Elinor Friend Playground
Free with Zoo admission
The Elinor Friend Playground ignites the imagination of children of all ages. This unique space is modeled after three distinct bio-regions, which take their themes from specific ecosystems and appeal to distinct age groups:
River Play Area for toddlers (6 months – 2 years);
Polar Zone exploration space for pre-schoolers (2-5 years), and
Banyan Tree climbing structure for pre-teens (5-12 years).
 Along with striking natural forms, the architecture integrates a wide range of materials and textures in glorious detail that mimic those found in nature and encourage curiosity among young explorers.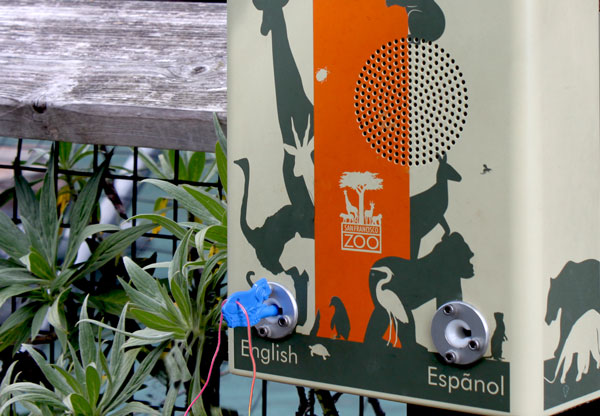 Zoo Keys
The ever-popular, interactive Storybooks have returned to the Zoo, activated by the beloved, plastic animal keys that have become nostalgic icons to visitors from years past. At Storybook sites around the Zoo, visitors can listen to multilingual recordings of stories and fun facts about the animals. You can purchase your Zoo Key onsite at the Admissions Gate or in the Membership Office or online. If you have an original key, you can continue to treasure it as a collector's item as it won't work with the new boxes.
Zoo Keys are $5 each