Fred Carroll Family Sea Lion Pool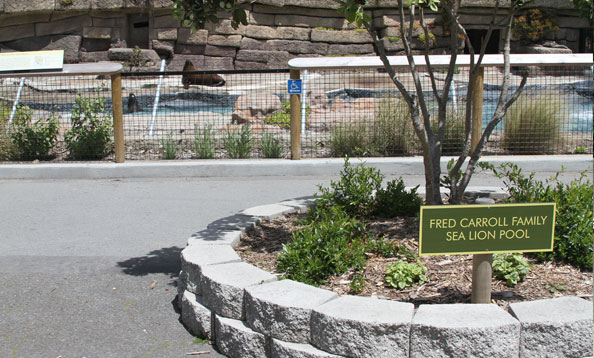 With the support of the Fred Carroll Family and other generous donations, our sea lion pool was refurbished in 2011 to give a home to two very special animals in need. Both blind and no longer able to survive in the wild, Silent Knight and Henry were rescued by The Marine Mammal Center and found second chance at life here at the San Francisco Zoo. With 85,000 gallons of well water to frolic and swim in and warm stones on which to haul out and sun themselves, it didn't take long for the sightless sea lions to become comfortable in their new home at the Fred Carroll Family Sea Lion Pool.
The Stories of Silent Knight and Henry
On December 8, 2010, rescuers from The Marine Mammal Center received a report of a large male California sea lion looking listless on a beach in Sausalito. Silent Knight, as he was named by rescuers because of the holiday season and his "princely" stance and quiet demeanor, was suffering from a facial gunshot wound. After examination, they found that his right eye was destroyed and his left was not functioning. He had five metal fragments in his brain, eyes and mouth and an infection in his jaw. His diagnosis was poor and it was determined that he was permanently blind and could not survive if released back into the wild.
Henry was rescued by the Northcoast Marine Mammal Center in Crescent City, California after he was found starving on a beach in May of 2010. Veterinarians there discovered he was blind, though it is unclear what caused his blindness and they don't believe he was born this way. Henry's inability to see may have challenged his fishing skills, which ultimately left him weak and unable to swim or fend for himself. After much rehabilitation the two-year-old sea lion was sent to The Marine Mammal Center where he was introduced to his future companion, Silent Knight.
Since the main goal of the Marine Mammal Centers is to rehabilitate and release animals back into the wild, there is no room to permanently house those who can't survive fending for themselves in the sea. The San Francisco Zoo was thrilled to step in on May 3, 2011 and provide a long-term home for both sea lions.
Alas, Silent Knight passed away in March 2019, followed by Henry in August 2020. Their stories continue to inspire us.