A Look Back at 2022
As we look back fondly on the past year, San Francisco Zoo & Gardens has much to be proud of! From incredible new and expanded habitats and beautiful gardens and the return of visitors, our team worked hard to ensure that everyone had a unique and special experience. Let's take a moment to reflect on all the accomplishments and joyous moments of our past year.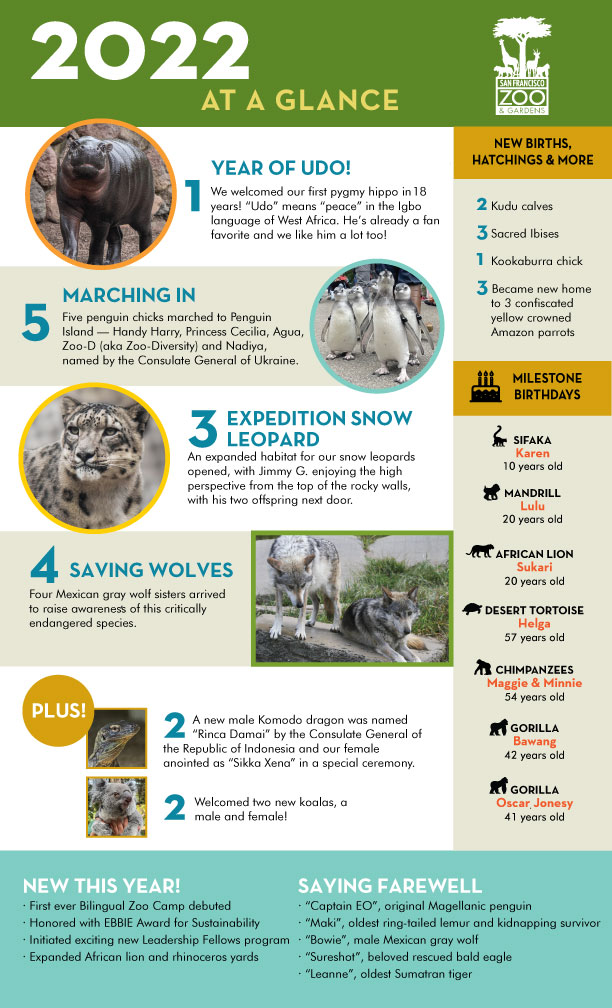 Farewell 2022, Hello 2023!
As we close out 2022 and step into a brand-new year, it's with immense gratitude that we are able to look back at all that we have accomplished. We've seen the return of visitors from near and far, after the struggle brought on by the pandemic, the opening of new and expanded habitats and beautiful gardens, and our incredible staff members have dedicated themselves day in and day out to provide an amazing experience for all of you. 
Looking ahead to 2023, the possibilities are limitless! From exciting new projects taking shape, innovative ways to engage with guests virtually or on-site, and educational programming being developed across multiple platforms, there's no shortage of reasons why this will be a banner year for San Francisco Zoo & Gardens.
We can't wait to show you what's in store for the year ahead and we look forward to continuing our incredible journey together. On behalf of everyone here at San Francisco Zoo & Gardens, we wish you a very happy New Year!
Best wishes,
Your friends at SF Zoo & Gardens