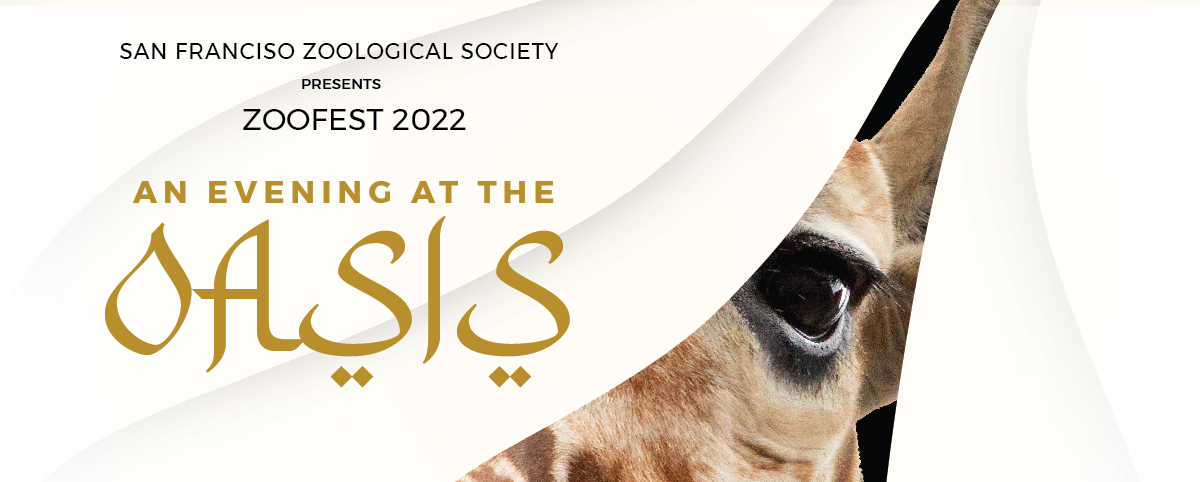 Please join the San Francisco Zoological Society's
annual ZooFest Gala on Friday, May 13, 2022
Your support this year is more important than ever. Get ready for a fun night benefitting a great cause!
Reserve your table or ticket today! Click here to purchase tickets.
Ticket/Table levels: (Early bird pricing ends March 31, 2022)
For more information, please call Margaret Stangl at (415) 213-8108 or e-mail [email protected].
Schedule

6:00 pm  Cocktails and Silent Auction
7:00 pm  Dinner
8:00 pm Live Auction
8:45 pm Entertainment
Pricing Information
Ticket/Table levels: (Early bird pricing ends March 31, 2022)
Mojave Individual Patron Ticket: $500
($750 starting April 1, 2022)
Spiny Forest Individual Benefactor Ticket: $1,000
($1,250 starting April 1, 2022)
Includes 1 ticket and listing in the program
Mojave Table Sponsorship: $5,000
($7,500 starting April 1, 2022)
Seating at a table for 10 guests at ZooFest on May 13, 2022
2 VIP all-access passes good for one year
5 one-day Zoo passes with tickets for admission and carousel rides
Behind-the-Scenes Zoo Tour for up to 4 people
Name recognition in all event materials, including event program
Spiny Forest Level Table Sponsorship: $10,000
($12,500 starting April 1, 2022)
Prominent Seating at a table for 10 guests at ZooFest on May 13, 2022
4 VIP all-access passes good for one year
10

 

one-day Zoo passes with tickets for admission and carousel rides
Behind-the-Scenes Zoo Tour for up to 6 people
Name recognition in all event materials, including event program
Gobi Level Table Sponsorship: $15,000
($20,000 starting April 1, 2022)
Preferred Seating at a table for 10 guests at ZooFest on May 13, 2022
6 VIP all-access passes good for one year
15 one-day Zoo passes with tickets for admission and carousel rides
Behind-the-Scenes Zoo Tour for up to 8 people
Logo listing on Zoo in all event materials, including event program
Sahara Level Table Sponsorship: $25,000
($50,000 starting April 1, 2022)
Most Preferred Seating at a table for 10 guests at ZooFest on May 13, 2022
10 VIP all-access passes good for one year
25 one-day Zoo passes with tickets for admission and carousel rides

 

Behind-the-Scenes Zoo Tour for up to 10 people
Logo listing on Zoo in all event materials, including event program
Recognition from podium during event