Historic Sites
A beloved miniature steam train known as Little Puffer is synonymous with San Francisco Zoo's history, and continues to bring joy to today's families as it did for generations of zoo-goers.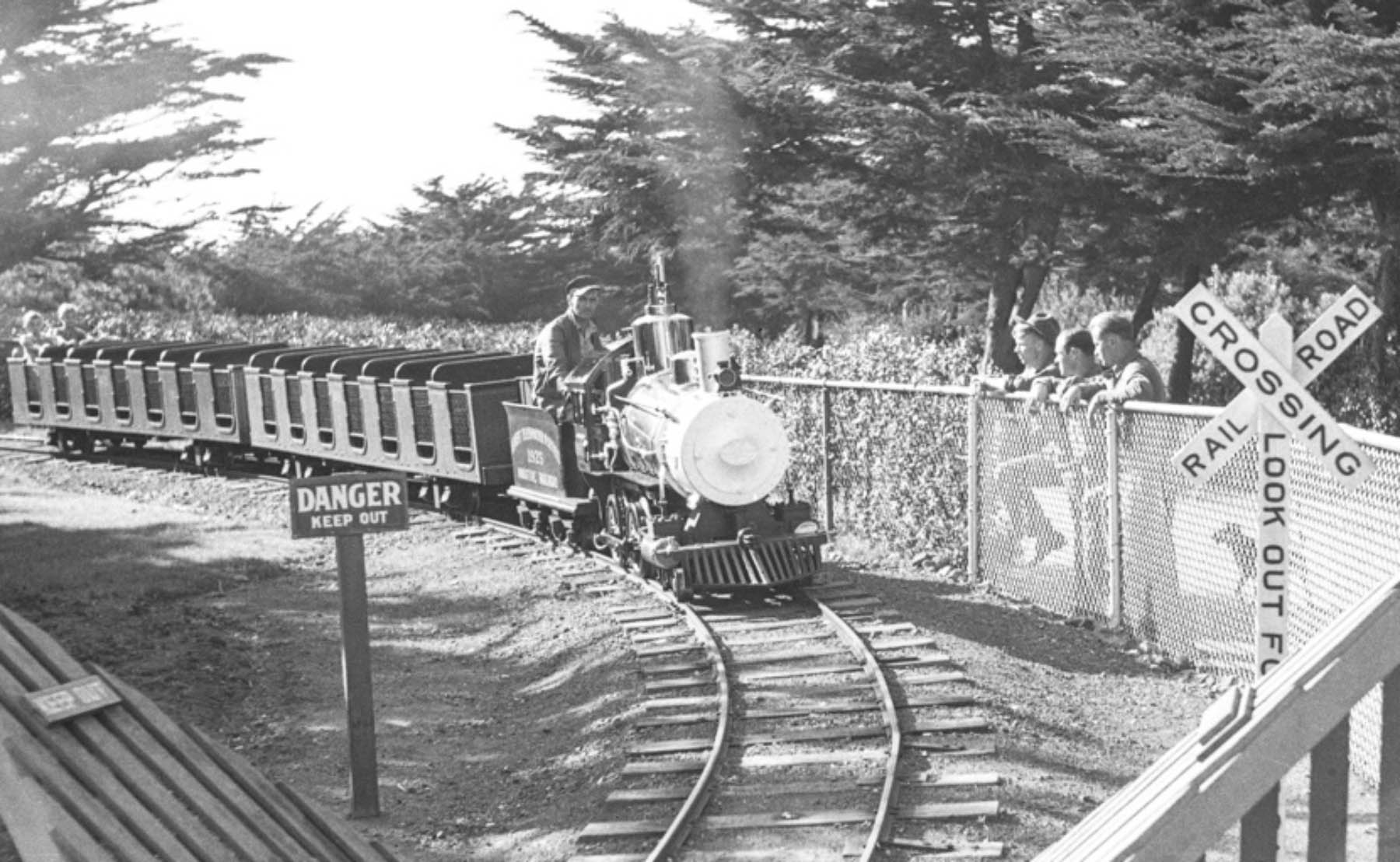 Little Puffer Miniature Steam Train
One of San Francisco Zoo & Gardens' most unique attractions isn't an animal; it's a rare miniature steam train known affectionately as "Little Puffer." And over time, this historical gem has become known as the "little engine that could."
Called the Fleishhacker Playfield Limited and nicknamed Little Puffer, the train chugged around the Zoo for many years, and eventually relegated into storage for almost 20 years. Its return in 1998 delighted all.
When you see the Little Puffer today, you'd never guess that this fully functional, pristine miniature steam train is pushing 100 years of age, a throwback to a time when a movie cost a quarter and bottle of Coke was only five cents. It is one of only three remaining 22-inch gauge engines left in the world. Little Puffer is an integral part of the San Francisco Zoo's history and an important part of the Zoo today.
History
1904

 

– Around the turn of the 20th century, the renowned Cagney Brothers' Miniature Railroad Company, based in New York City, manufactured a few 22-inch gauge "Class E" miniature steam locomotives. One of these won the Grand Prize for Freight and Passenger Locomotives at the 1904 Louisiana Purchase Exposition. It is believed that only six or seven of these remarkable trains were built. Though some were sold for mining operations, mills and amusement rides, the Zoo train may indeed have actually operated at Louisiana Purchase Exposition.
1907-1915

 

– 

Records indicate that the train was in service along a sandy beach in Santa Cruz from 1907 to 1915. After this, it is believed that the train was almost destroyed in a warehouse fire.
1908-1910

 

– In an analysis of old photos taken in Santa Cruz during this time, the Golden Gate Railroad Museum (GGRM) ascertained that this particular train was most likely built around 1904. The evidence was an unusual bent coupler, seen in one photo, the same as the train has now.
1920s

 

– Ford car dealer Joseph Cornelius Hayes purportedly purchases the train. It had been sold for scrap by the operation in Santa Cruz when Hayes and a partner discovered the train in a scrap yard near Third and Brannan Streets in San Francisco. The story suggests that the train was purchased as scrap metal in exchange for "three cases of gin and an old Oldsmobile."
1920-1924

 

– Around that time the train was thought to be restored for relocation to San Francisco's Ocean Beach. However, after Fire Commissioners would not issue a permit as the locomotive was a coal burner and consequently a fire hazard, another site was considered. This more promising site was an amusement park in San Mateo, CA called Pacific City but it closed due to financial woes soon after it opened in 1924. To avoid having the train impounded, it was removed and hidden for two years in an old abandoned livery stable in Burlingame.
1925 –

 

Herbert Fleishhacker purchases the train and installs it at the new Herbert Fleishhacker Zoo, where it remains for 53 years.
1935

 

– newspapers tout the Fleishhacker Playfield Limited as the only train in San Francisco to make daily runs with full passenger loads every trip. The operating costs consisted of the coal burned by the locomotive and the salary of one man who served as engineer, conductor, fireman, oiler and shop man.
Although much of Little Puffer's early history at the Zoo is unavailable, it is known that the little steam train carried about 100,000 visitors a year during its heyday, running a capacity of 42 passengers in three cars around a third-of-a-mile track for about three minutes.
1965

 

– Little Puffer is renamed "The California Zephyr" after Western Pacific Railroad sponsors a restoration of the train and its tracks.
1971

 

– According to a newspaper article, plans were made to retire the train and replace it with a larger train on a bigger, longer track, powered by a Ford tractor engine. The new train and tracks were to cost $300,000, but plans fell through.
1978

 

– Although it had then been scheduled to retire in 1971, it wasn't until 1978 that the train was finally packed away to make room for Gorilla World, an exhibit that opened in 1980.
Back in Service

The little train languished in storage for 20 years until the tired and dilapidated steamer was dusted off and taken out of storage in The Pachyderm House with two Asian elephants, a grey seal and a pygmy hippo. Time had not been kind to Little Puffer. She was in a sad state of disrepair, with parts missing and splintered and chipped wood in the passenger cars.
It was 1997, and through the generous support of the Richard and Rhoda Goldman Fund, California Federal Bank and the GGRM, the Zoo had what it needed to bring Little Puffer back to life. San Francisco's GGRM, a nationally-recognized organization dedicated to the preservation and exhibition of historic railroad equipment, went to work to restore the historic steam train.
Working with outside contractors, such as PG&E, track architects, bodywork and boiler specialists, the reconstruction team took to the challenge. GGRM members, all volunteers, disassembled, reassembled, painted, welded, sandblasted, fitted and created train gears, parts and pieces to recreate the miniature train. They also retrofitted it to run on cleaner-burning natural gas. Meanwhile, the Zoo started laying track for the new, longer route. The cost to renovate the train, which sold for just $15,000 in a 1905 Cagney catalog, was approximately $75,000. The addition of the new depot, plaza area, track layout, landscaping and storage barn facility, brought the cost to $700,000.