Give Now
Your donation will make a difference in the lives of our animals and our community by enabling us to provide top-notch veterinary care, facilitate award-winning education programs, and support conservation efforts locally and globally.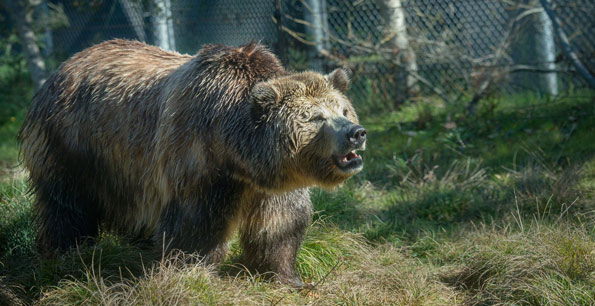 For questions about making a donation, please call (415) 753-7097 or e-mail [email protected]. If you wish to mail in your gift, please send it to:
San Francisco Zoological Society
Development Department
1 Zoo Road
San Francisco, CA 94132-1098
The San Francisco Zoo is a 501(c)3 non-profit organization.
Our charitable tax ID number is 94-1429538.
Tribute and Memorial Gifts
Tribute gifts are a thoughtful way to celebrate a birthday, wedding, new baby, graduation, or any special occasion. Memorial gifts are a special way to express sympathy by honoring the memory of a friend or relative. A tribute or memorial gift to the San Francisco Zoological Society (SFZS) will be acknowledged to the donor as well as to the honoree or family (amount not disclosed). All donations are fully tax-deductible and support the care and enrichment of the over 250 animal species at the San Francisco Zoo.
To make a tribute or memorial gift, you can submit your donation online or mail it to the SFZS at the address above. We will send notification (excluding the dollar amount of your gift) to the person or family member of your choosing, and you will receive an acknowledgment letter for tax purposes. Just check the Tribute/Memorial box on the donation form at the right and fill out the honoree information. For questions about tributes and memorials, call (415) 753-7097 or e-mail [email protected].
Sponsor a Bench
Are you looking for a unique and lasting recognition opportunity? Sponsoring a bench at the Zoo allows you to remember loved ones, celebrate friends and family, promote your business, mark a special occasion, or simply show your love for the Zoo while supporting our diverse education, conservation, and animal care programs. Your wonderful gift adds to the beauty of our campus and offers guests a place to relax while they enjoy the wildlife.
Bench sponsorships are $5,000 each and include:
A bench made predominantly from recycled materials, chosen to tolerate Pacific-coast weather for up to 10 years.
A personalized plaque on the bench to commemorate your gift. You may choose to have the bench placed in a variety of available spaces on Zoo grounds.
Recognition on the Donor Recognition Board at our Main Entrance.
For questions about our Bench Program, call (415) 753-7097 or e-mail [email protected].

Donate a Vehicle
Donate your used car, truck, van, boat, trailer, or RV to the San Francisco Zoological Society and receive a tax deduction while supporting wildlife conservation and education programs. The auction house will pick up your vehicle at no cost (in most cases) and will handle all of the DMV paperwork. It's simple and easy. Please help the animals by donating your car today.
For questions about donating a vehicle, call (800) 574-0888 or click here.