Working Green
Working Green is the only way to work. Learn more about how we conserve and support conservation through partnerships and daily practices.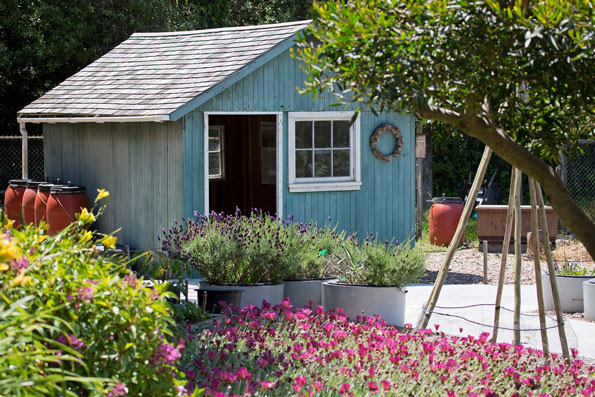 Bay Area Sustainable Seafood Alliance
The San Francisco Zoo is a proud member of the Bay Area Sustainable Seafood Alliance, a partnership aimed at raising local consumer, restaurateur, and seafood industry awareness of the importance of acquiring seafood from sustainable sources. Working together, the Zoo, Aquarium of the Bay, Marine Mammal Center, and California Academy of Sciences provide regional support for the Monterey Bay Aquarium's Seafood Watch® program.
You can take conservation action by:
Being a sustainable seafood savvy diner. Support local restaurants that are committed to promoting and serving sustainable seafood. For a complete list of current Partner Restaurants, visit the Aquarium of the Bay's website.
Using the Seafood Watch app or website. Download the Seafood Watch app for iPhone or Android for the most current recommendations or visit the

 

Seafood Watch website

 

for detailed reports on the science behind their recommendations. Next time you are at the Zoo check out some of our fish-loving friends: Magellanic penguins and California sea lions.
Earthwatch Program
The San Francisco Zoological Society Board of Directors, past and present, donate funds annually to support staff participation in Earthwatch expeditions. Our generous Board has supported this empowering professional development program for over 20 years.
Wild Places, Wild Things Lecture Series
The Zoo's science lecture series brings world-renowned conservation experts to share stories and photographs about important conservation projects and discoveries. The lectures are free to Zoo guests, staff, and volunteers.
Wildlife Conservation Network (WCN)
WCN fosters the entrepreneurial spirit in the field of conservation by partnering with independent, community-based conservationists around the world and provides them with the capital and tools they need to develop solutions for human-wildlife coexistence. A number of Zoo staff volunteer regularly for this local organization and WCN has partnered with the Zoo to raise awareness and funds for snow leopard research, Andean mountain cat conservation, and volunteer recognition.
Conservation Strategy Fund (CSF)
CSF teaches environmental organizations how to use economics and strategic analysis to conserve nature. Over 1,000 graduates and 88 countries have participated in the training course "Economic Tools for Conservation" at Stanford University. The Zoo funds one scholarship.
San Francisco Public Utilities Commission (SFPUC)
The SFPUC advises the Zoo on important water and energy conservation projects. In 2013, the partnership yielded five new electric vehicle chargers in the Zoo's parking lot.
National Oceanic and Atmospheric Administration (NOAA)
NOAA advises the Zoo on various projects. In 2013, NOAA helped connect our guests to messages about ocean debris at our Fred Carroll Family Sea Lion Pool.
Practices
Greenie's Conservation Corner
Greenie's is a demonstration garden highlighting energy conservation, sustainable practices, and water conservation. Besides raised-bed gardens growing food for Zoo animals, the garden includes flowers for plant pollinators, active bee hives, a solar powered garden fountain, wind generator, bat houses, and a rain harvesting system using the roof of a re-purposed 1906 earthquake refugee shack.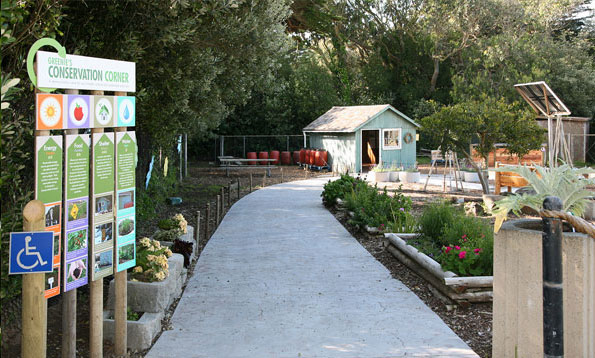 Zoo-wide Energy and Natural Resource Conservation
Composting
Over a million pounds of animal waste is sent for composting each year. This program diverts an average of 75% of our total solid waste away from landfill every month – composting food scraps from the restaurants and organics from our horticulture department, recycling paper, plastic, cardboard, scrap metal, and glass.
Electric Vehicle Charging Stations
Through a partnership with the San Francisco Department of the Environment, five electric vehicle charging stations are available in the Zoo's parking lot.
Public Utilities
We are working with the San Francisco Public Utilities Commission (SFPUC) on several water and energy conservation projects.
Water
Among many other water-conservation programs, a water-bottle charging station has been added to encourage our guests to re-use water bottles to decrease the amount of one-time-use plastics in the waste stream.