Local Conservation Efforts
The care of wildlife extends far beyond the Zoo's gates. Learn more about our leading roles in conserving western pond turtles and Mountain yellow-legged frogs.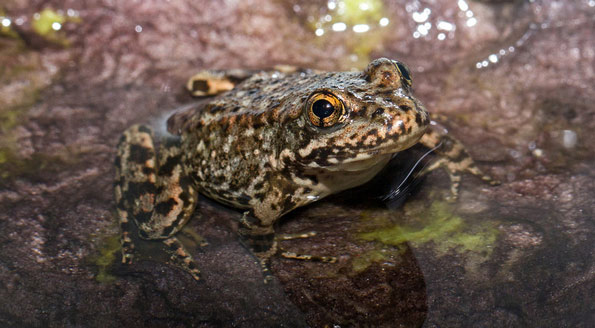 Western Pond Turtle (WPT) Project
A partnership between the San Francisco Zoo, the Oakland Zoo, and Sonoma State University. Project goals are to determine the critical temperature and timing of sex determination in WPT to optimize male-female sex ratios for ex-situ incubation and to establish a WPT head starting program at San Francisco and Oakland Zoos. These goals are essential to the immediate conservation and ultimate recovery of the turtle.
Watch this video about the project
More information
Mountain Yellow-legged Frogs
Mountain yellow-legged frogs are facing down an extinction threat throughout the Sierra Nevadas in California. The San Francisco Zoo and its partners are working together to keep these amazing frogs in their high mountain habitat by head-starting the most critically threatened populations and trying different techniques to boost numbers throughout the frog's range. Learn more about our newest project in Sequoia-Kings Canyon National Park.
California Red-legged Frogs
Red-legged frogs were once a common species, Mark Twain even wrote about them in "The Celebrated Jumping Frogs of Calaveras County", but they have undergone a population decline over the past decades. The San Francisco Zoo & Gardens is working with Yosemite National Park to reintroduce frogs to areas in the park that they disappeared from over a half century ago!
San Francisco Forktail Damselfly
A true San Francisco native, the San Francisco Forktail Damselfly is found only in a handful of natural water seeps within the city. Considered to be one of the rarest damselflies in the United States, this species is at risk of extinction.
San Francisco Zoo & Gardens animal staff work to breed, rear and release Forktail Damselflies into restored sites throughout the city with the help of the National Park Service. These efforts will hopefully help establish new populations so that these natives are able to thrive for generations to come!