Adopt-a-Grizzly Bear
Grizzly bears, once prevalent in California, have been extinct in this state since the 1920s. They have been classified as a "threatened" species in the United States since 1975.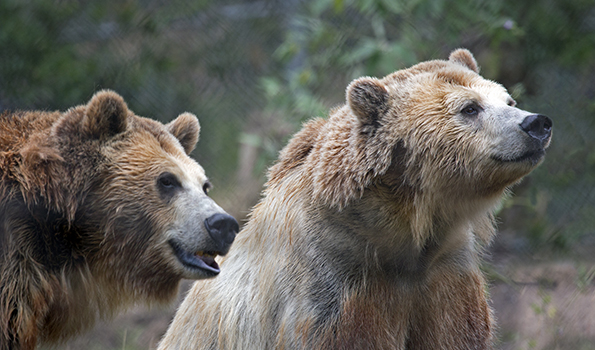 Adopt-an-Animal: Grizzly Bear
Our two female grizzly bears were orphaned as cubs in Montana and cared for by Montana wildlife officials before being released to the wild. Used to human-induced food rewards, they were considered "problem" animals after invading the ranch of some Montana residents. After several attempts to relocate them away from human development and numerous phone calls to find the bears a new home, Montana wildlife officials were forced to make the agonizing decision to euthanize them, when the San Francisco Zoo agreed to take them in.
Their pelt shows a variety of colors from blond, brown, black or a combination of these. The large shoulder hump provides the muscle power to the forelimbs to dig winter dens, dig up roots, strike down a prey animal or compete with rival males. The front claws are up to four inches long.
Your Adopt-an-Animal donation will be used to support these fierce beasts and further the San Francisco Zoological Society's mission to connect people to wildlife, inspire caring for nature, and advance conservation action. An adoption of a grizzly bear makes a great gift for friends, coworkers, family or for yourself!
You can find our grizzly sisters in Hearst Grizzly Gulch.
All sales are final.