Adopt-a-Lemur
Ring-tailed lemurs are among the best known, most easily recognized, and most intensively studied of all lemurs, and are the only surviving semi-terrestrial diurnal lemur in Madagascar.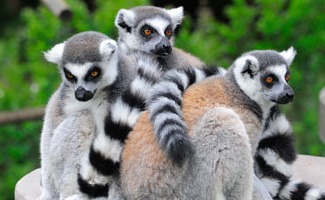 Adopt-an-Animal: Ring-tailed Lemur
The San Francisco Zoo's the Lipman Family Lemur Forest is home to 7 different species of lemurs, including the ring-tailed lemur. At the Zoo on a sunny day, you can often see the ring-tailed lemurs catching some rays from the sun in a yoga-like sitting position. They sit with their arms outstretched and heads back to maximize sun exposure
Your Adopt-an-Animal donation will be used to support these exquisite primates and further the San Francisco Zoological Society's mission to connect people to wildlife, inspire caring for nature and advance conservation action. An adoption of a lemur makes a great gift for friends, coworkers, family or for yourself!
All sales are final.