Adopt-a-Penguin
The Magellanic penguin is one of 17 penguin species, all of which live in the southern hemisphere. The climate in this species' range is not that different from our climate here in northern California.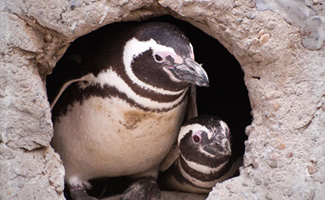 Adopt-an-Animal: Magellanic Penguin
The San Francisco Zoo maintains the largest and most successful breeding colony of Magellanic penguins in captivity, having fledged approximately 205 chicks since 1985, and participating in a nationally-coordinated Population Management Plan sponsored by the Association of Zoos and Aquariums.
Your Adopt-an-Animal donation will be used to support these aquatic birds and further the San Francisco Zoological Society's mission to connect people to wildlife, inspire caring for nature and advance conservation action. An adoption of a Magellanic penguin makes a great gift for friends, coworkers, family or for yourself!
All sales are final.