School Services
The San Francisco Zoo offers educational programs for all grade levels, from pre-K through 12th grade. Our programs support common core standards and take an interdisciplinary approach to exploring life sciences.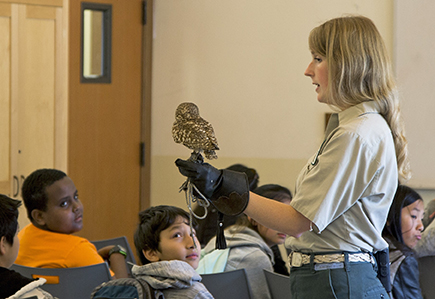 Docent-Guided Tours
Our docent guides lead educational walking tours for grades 1st-12th for groups of 15 to 40 students plus chaperones. Tours are available Monday-Friday during the months of September through March. If you are interested in adding a Docent Tour to your visit, please book the tour at least 4 weeks in advance of your planned visit.
Tour topics include:
Amazing Adaptations (1.5 hours, best for grades 1-4, and 6)
African Animals (1.5 hours, best for grades 1,3,4, and 6)
Environments and Habitats (1.5 hours, best for grades 1-4, 6, and 7)
Shifting the Balance (1.5 hours, best for grades 3,4,6,7, and 9-12)
Have a Question?
e-mail [email protected] or call (415) 753-7122
Please revisit this page for updates on potential virtual docent tours.
Teacher Resources
Looking for field trip materials? Biology lessons? Home school projects? Wild About Art and Science Contest details? Find helpful in-class, pre-visit, Zoo day, and post-visit Educator Guides and Activities on our Teacher Resources page.