Adopt-a-Rabbit
More than half the world's rabbit population resides in North America. They are also native to southwestern Europe, Southeast Asia, Sumatra, some islands of Japan, and parts of Africa and South America.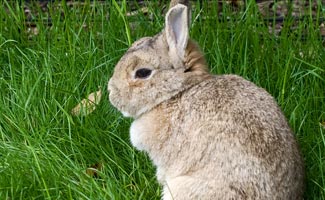 Adopt-an-Animal: Rabbit
Rabbits are social animals sometimes finding companionship with guinea pigs, cats, dogs and humans. Come and visit our rabbits and their companions in the Children's Zoo at the San Francisco Zoo.
Your Adopt-an-Animal donation will be used to support these furry friends and further the San Francisco Zoological Society's mission to connect people to wildlife, inspire caring for nature and advance conservation action. An adoption of a rabbit makes a great gift for friends, coworkers, family or for yourself!
All sales are final.