Historic Sites
San Francisco Zoo & Gardens was once the site of the world's largest swimming pool in an age when civic leaders created recreational attractions that were billed as the biggest, longest, tallest and most original.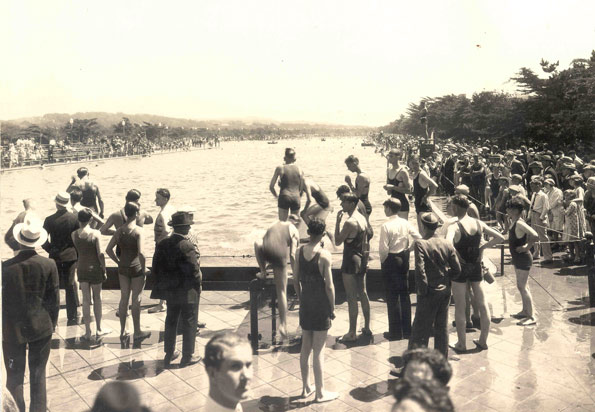 Fleishhacker Pool
Fleishhacker Pool, the largest swimming pool in the United States, was located right next to the San Francisco Zoo for 47 years. Its storied history includes movie stars the 1920's and 1930's such as Johnny Weismuller, Esther Williams and Ann Curtis. The pool — so large that lifeguards used wooden row boats to make their way across — was also used by the military for drills and exercises, and was an ideal pool to host swimming meets and races. The pool holds fond memories for many San Franciscans, who to this day can recall when they swam in this colossal pool.
Background
1924

 

– Philanthropist and civic leader Herbert Fleishhacker conceived of and builds the world-renowned pool. Under Fleishhacker's leadership, the Park Commission persuaded the City to purchase 30 acres of oceanside land from the Spring Valley Water Company to establish a site for the present zoo.
1925

 – Fleishhacker Pool opens on April 23, 1925. The pool was 1,000 feet long and 150 feet wide. A diving pool measured 50 feet square and 14 feet deep with a tiered diving tower. The main pool had a capacity of six million gallons and could accommodate 10,000 swimmers. Salt water was pumped into the pool at high tide through a pipeline from the ocean and then pumped out at low tide.
1971

 

– Fleishhacker Pool closes after years of deterioration and a lack of modern operational systems; the pool could not meet modern health standards. Though consideration was made to refurbish and reopen this historic landmark, studies showed that public usage was extremely low (22,140 in 1970), annual operating costs were very high ($56,000), and there was little revenue ($6,000) to offset these costs.
2002 – The pool lay dormant for several years until it was filled with sand and gravel to serve as an access road for maintenance trucks and as an employee parking lot. In summer of 2002 it became the site of a secured parking area for visitors to service a new ADA accessible main entrance.