Historic Sites
More than 60 years after a special place was created at San Francisco Zoo just for children, today's Children's Zoo remains a fixture where families can delight in exploration as generations did before them.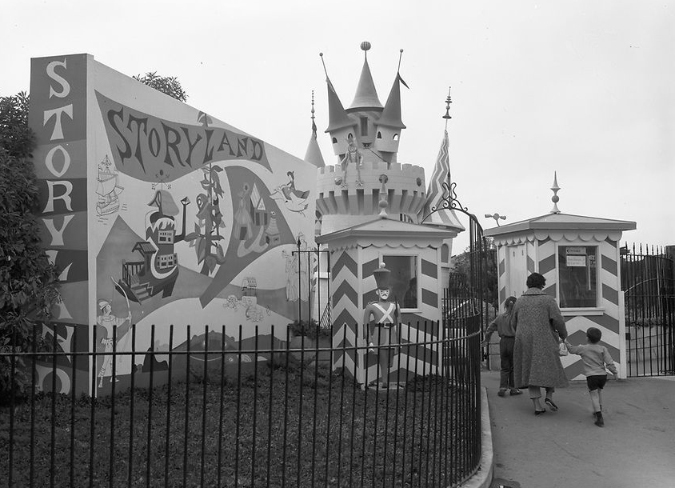 The Children's Zoo
Evolution of the Children's Zoo
The Fisher Family Children's Zoo is one of the most popular areas at the San Francisco Zoo. It has been a source of wonderment and discovery for millions of children, providing them with up-close encounters with animals and a unique place to call their own. Today's Children's Zoo has evolved into a special place for both kids and adults, with a wide range of family activities and educational opportunities. The face of the Children's Zoo has changed significantly since its early days, becoming a unique hands-on learning experience for the entire family.
Storyland
In 1959, the three-acre Storyland debuted as an outdoor playground area featuring life-sized scenes from nursery rhymes and fairy tales with play equipment. Storyland was developed, opened, and operated by the San Francisco Recreation and Park Department. Considered a unique concept in family entertainment, it consisted of 26 animated action and audio sets in two and three dimensions.
Animated fairy tale sets depicted scenes from Old King Cole, Little Red Riding Hood, Snow White, Humpty Dumpty, Hansel and Gretel, and Old Mother Hubbard. The action sets featured See Saw Marjorie Daw (teeter totter), Jack and Jill (slide), Ring-around a Rosie (merry-go-round), Old Woman in a Shoe (circular ride), Witches' House (play house), Cinderella (creative play form), School House (play house), Monday's Child (contour path), Humpty Dumpty (maze), and Pooh Corner (creative play form). Drinking fountains were made in the shape of Babar the Elephant and Town Mouse and Country Mouse. The audio sets included King Cole, Rapunzel's Castle (entrance motif), Sing a Song of Sixpence, Goldilocks and the Three Bears, and Alice in Wonderland.
The Mad Hatter's Munch Bar, a themed food stand, provided refreshments visitors could purchase. At the Sugar Plum Party Area, four party courts were arranged in the form of a four leaf clover around a 12-foot high Sugar Plum Tree. These areas could be reserved for children's parties at a minimal cost. And while admission to the main Zoo was free, Storyland admission was not: children 12 and under were 10¢, and 15¢ for all persons over 12.
Storyland Children's Zoo
In February 1964, the Zoological Society took over the operation of Storyland from the City's Recreation and Park Department. In March 1964, the Children Zoo opened as a place "where children of all ages may actually pet, hold and feed baby animals."
To kick off their new Children's Zoo concept, the Zoological Society leased Rhue's famous Baby Zoo located in Thousand Oaks, CA for a period of six months. Rhue's Baby Zoo was in an enclosed area 120 x 140 feet. Many of the animals roamed around freely and could be handled by visitors. The animals included a baby elephant, pygmy horses, pygmy donkeys, burros, a giant tortoise, bear cubs, lion cubs, deer, llamas, chimpanzees, pygmy goats, kangaroos, sheep, gibbons, macaques, and an assortment of geese, turkeys, rabbits, piglets and lemurs. At the end of six months, a permanent Children's Zoo was constructed.
The first completed portion of the Children's Zoo was a redwood corral and shed located inside the tracks of the Little Puffer miniature steam train. The first occupants of the corral were two eight-month-old burros, Rosie and Tootsie. An egg hatchery where visitors could watch eggs hatched in a display incubator followed. Over time, attractions such as a penguin show were added — a 20-minute performance by 12 Humboldt penguins trained to box, ride a surfboard, dive and even play a piano. From time to time, baby animals from the main zoo were cared for in the nursery. Even then, the Children's Zoo offered a learning and teaching experience with many educational graphics to provide teachers and parents with information to discuss with their kids.
More Changes
Over the years, the Storyland playsets were removed, and animal areas were constructed. A Nature Trail pathway was added to provide visitors with opportunities to meet a variety of animals up-close. The indoor Insect Zoo got its start as a temporary exhibit in 1979, proving so popular that it became a permanent exhibit shortly thereafter. In 1996, Rapunzel's Castle — the last vestige of Storyland — was demolished and replaced with a new entranceway, which included a trout stream, wetlands interpretive station and a large bronze statue of geese. In 2000, the Meerkat and Prairie Dog exhibit opened, providing close-up viewing of two diverse burrowing mammals with a wide variety of activities, such as crawl-in burrows, for the kids.
Today
The Fisher Family Children's Zoo, also known as the Exploration Zone, has evolved from its early Storyland days to become an exciting part of the Zoo experience. Here, children are given the means to become involved with animals in a positive way. Presentations such as livestock demonstrations and hatchery care impart important information to youngsters, while hands-on activities such as grooming or feeding the goats help to build unique bonds with animals. Today, visitors can learn about farm life and meet rare breeds of domestic animals in the Family Farm, see birds of prey at the Koret Animal Resource Center, meet youth volunteers and a variety of animals on the Nature Trail during the summer, and visit some of the world's most unusual creatures in the Insect Zoo.