Historic Sites
Bison have lived in the bison paddock at Golden Gate Park since the late 19th century, cared for by animal care staff from San Francisco Zoo & Gardens.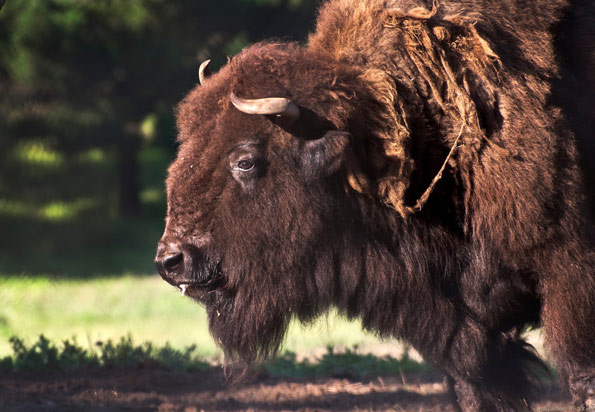 Golden Gate Park Bison
SF Zoo animal staff care for the bison located at the Bison Paddock in Golden Gate Park under the management of the San Francisco Recreation and Park Department. As such, staff provide daily care and feeding and veterinary services, while Rec &  Park maintain the paddock and grounds.
History
1891 –

 

Park Superintendent John McClaren brings bison to live in Golden Gate Park. At the time, the species was close to extinction in the United States as a result of massive slaughter by hunters for trophies and hides. 
First Bison
The first bison to arrive at the Park was a bull named "Ben Harrison." According to an article in the San Francisco Examiner, Ben Harrison hailed from the Kansas ranch of C.J. Jones, an early conservationist who began his own breeding program in 1884. Ben Harrison was purchased for $350 — a great deal of money at that time — and shipped to San Francisco. He was the first of a herd of bison that was intended to help preserve the species. Within two years, he had sired a calf by the first female, "Sarah Bernhardt," and from that point on the herd thrived. 
Over the years, more than 500 calves were born in Golden Gate Park. Captive breeding efforts literally saved the species from extinction. Today there are healthy herds in a number of National Parks and many large populations maintained by private breeders.
Bison Names
Over 100 years ago, the bison were named after public figures: Grover Cleveland, Bill McKinley and Bill Bunker were among the original animals. A later herd was originally named after the royal family according to Shakespeare. In 1993, the bison relinquished their Shakespearean names in favor of Native American names at a special bison reclaiming and renaming ceremony sponsored by the Watchbison Committee, the Native American Advisory Committee, and the San Francisco Zoological Society.
Today
In 2020, on the occasion of Golden Gate Park's 150th anniversary, five young bison were introduced to the existing herd. You can see the bison via their web cam by clicking here.