From the humble beginnings of a lone California grizzly bear to state-of-the-art animal care and wellness, our rich history explains the evolution of our mission to care, connect, and conserve.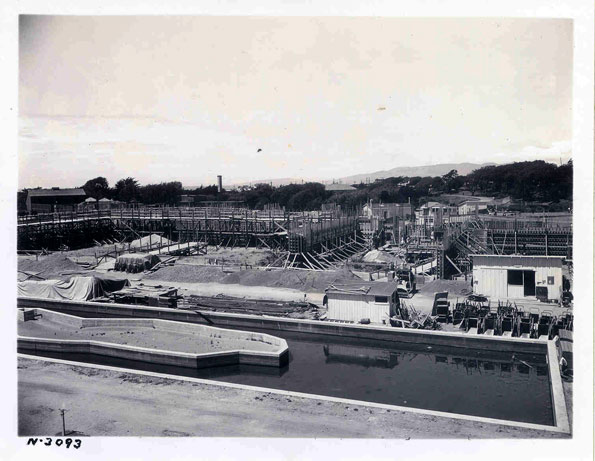 1930s: Our WPA Roots
The Zoo's first major exhibits were built in the 1930's by the depression-era Works Progress Administration (WPA) at a cost of $3.5 million. Fleishhacker, Heller and prominent San Francisco architect Lewis Hobart combined their talents to design the WPA exhibits. The animal exhibits were, in the words of Hobart, "ten structures designed to house the animals and birds in quarters as closely resembling native habitats as science can devise." These new structures included Monkey Island, Lion House, Elephant House, a sea lion pool, an aviary, and bear grottos. These spacious, moated enclosures were among the first bar-less exhibits in the country.
Heller's contribution was significant, but short; he died only four years later, in 1939. In 1941, Fleishhacker suggested that the Zoo, which had been named in his honor, be renamed the San Francisco Zoological Gardens to provide the Zoo with a regional identity. That same year, the Zoo received several acquisitions from the William Randolph Hearst private collection in San Simeon, perhaps most significantly, Zoo Director Carey Baldwin.
For 23 years Baldwin lived in the Zoo Director's house on Zoo grounds, overseeing the care of the collection, the growth of the facilities, and the birth of the San Francisco Zoological Society. Baldwin is remembered as a warm, committed man who never lost his enthusiasm for the animals. With his encouragement, nine wealthy animal lovers determined to support and improve the Zoo founded the non-profit San Francisco Zoological Society in 1954. The following year, Pennie the Asian elephant arrived at the Zoo, purchased with pennies donated by local school children.
About the Zoo
History of the Zoo
Early 1800s: Woodwards' Gardens