From the humble beginnings of a lone California grizzly bear to state-of-the-art animal care and wellness, our rich history explains the evolution of our mission to care, connect, and conserve.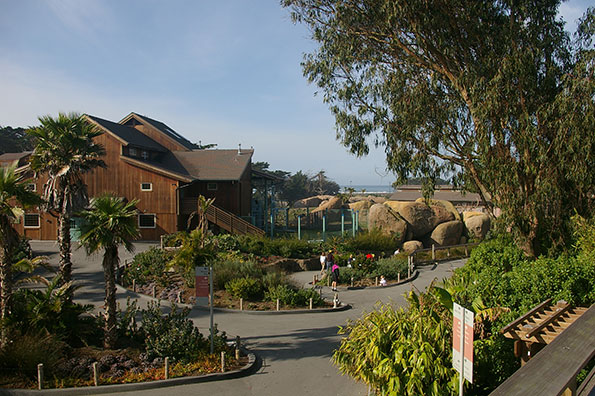 Present Day: The New Zoo
The evolution of the San Francisco Zoo into what we know today has been one of steady progress towards a primary mission of conservation. The San Francisco Zoological Society's highest priorities are providing quality animal care, advancing wildlife conservation, and educating visitors about nature by connecting them with animals. We hope to inspire our guests to connect with wildlife by creating naturalistic new habitats, renovating older exhibits, providing animals with a vast array of stimuli and behavioral enrichment opportunities, and presenting unique opportunities through which to experience nature.
The Zoological Society took over management and operations of the Zoo in 1993 from the City of San Francisco in a unique public/private Lease Partnership Agreement. Since then, the Society has made dramatic improvements and rebuilt exhibits throughout the Zoo. In 1994, the first major new exhibit was constructed–Otter River. The opening of this exhibit marked a change from the old-style enclosures as the concrete pool for North American river otters was renovated to have two deep pools, cascading waterfalls, and climbing rocks.
Over the next few years, many more changes took place, with new construction projects, exhibit renovations, and organizational improvements. The projects included "invisible" changes not noticeable by the public, but serving to ease animal management and increase efficiency. There was a complete rebuilding of structures, major landscaping and irrigation replacements, and installation of animal management features and animal enrichment opportunities. Visitor experience issues were also addressed, such as improvement of public viewing of animal exhibits, barriers, and safety concerns.
While the Zoological Society continued to renovate existing exhibits and construct new exhibits here and there, a major turning point came in June 1997. San Francisco voters approved the Proposition C $48 million Zoo Bond to rejuvenate the Zoo, and complement an additional $25 million that was raised privately. The Bond Plan called for a complete overhaul of the entire western portion of the Zoo, and included the restructuring of the entire entrance sequence, spacious new animal exhibits, and much-needed public facilities.
Learn more about Historic Sites at the Zoo.
See the Exhibits Timeline.
About the Zoo
History of the Zoo