From the humble beginnings of a lone California grizzly bear to state-of-the-art animal care and wellness, our rich history explains the evolution of our mission to care, connect, and conserve.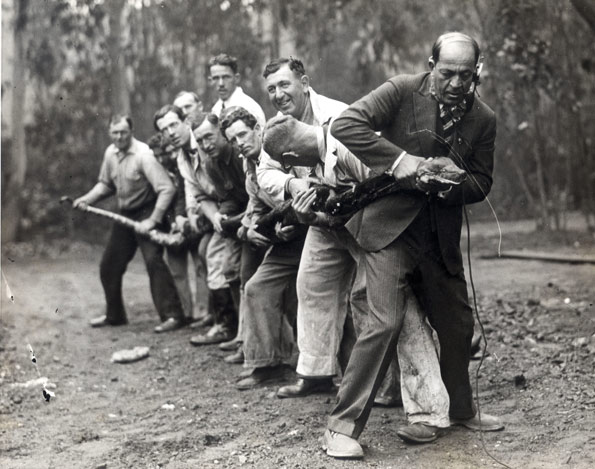 1929: Our First Director
In 1929, while on a cruise around the world, Fleishhacker met animal collector and hunter George Bistany in Manila, and commissioned him to diversify the Zoo's collection. Bistany was soon hired as the Zoo's first director. "We need a man who knows how to talk to these wild animals and who can tell when they need a bath or a dose of salt," said Park Commission Secretary Captain B.F. Lamb. Bistany applied his considerable knowledge of animal husbandry to build exhibits, shelters, and corrals, and to chart paths and roads. He also carefully trained the keepers in the care and handling of wild animals and birds.
His management duties were perhaps the most challenging aspect of the job. The original keepers were known as "hayburners" because their responsibility was the care and feeding of hoofstock and hay-eating animals. When word reached San Francisco that Bistany had chartered a shipment of leopards, tigers, pig-tailed macaques, lions, and elephants, panic erupted. The new Zoo had neither the facilities nor the expertise to care for these creatures.
Bistany himself saved the day by personally overseeing the shipment, improvising cages, and delivering impromptu lectures about the care of each species. By the time Fleishhacker returned from his cruise, the animals were sheltered, tended, and healthy.
Bistany considered the well-being of the animals his top priority and took pride in the success of his breeding programs. Cleanliness – in the kitchen, hospital, and exhibits – was his watchword. He once wrote, "This Zoo, although still small, has already earned for itself an enviable reputation for cleanliness and beauty of stock … Special stress is laid upon keeping the cages and corrals spotlessly clean at all times, and even the animals themselves are hosed off on warm days."
Bistany passed away in 1935 and was succeeded by Edmund Heller, the former Director of the Milwaukee Zoo. Heller was a noted zoologist with a strong history of field research. After a yearlong African safari, he co-authored the reference book Life Histories of African Game Animals with Theodore Roosevelt.
About the Zoo
History of the Zoo
Early 1800s: Woodwards' Gardens