Hearst Grizzly Gulch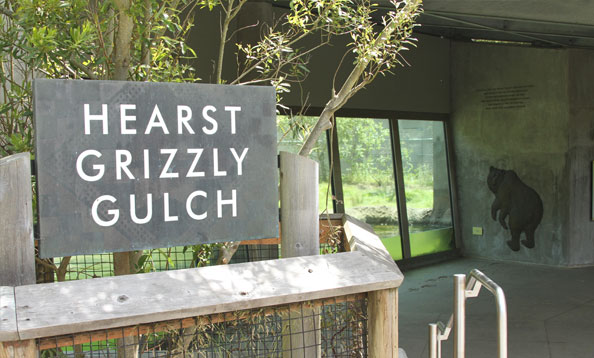 Journey to the rugged regions of North America and come nose-to-nose with the Zoo's beloved female grizzly bears, Kachina and Kiona, in an expansive habitat. With a sunny meadow, 20,000-gallon pool, herb garden, mountain stream waterfall and heated rocks, Hearst Grizzly Gulch enables the bears to do what they do best – explore, romp, swim, fish, forage, dig and nap. At one acre in size, Hearst Grizzly Gulch is one of the largest naturalistic environments dedicated to grizzly bears in any zoo.
The habitat celebrates a milestone in the lives of the orphaned, Montana-born sisters who warmed the hearts of Bay Area residents with the bittersweet story of getting a second chance at life. The orphaned bears were originally slated to be euthanized after they were considered "problem" animals for getting too close to developed areas and into a rancher's grain storage. In the fall of 2004, San Francisco Zoo Board Member Fred Carroll notified the Zoo of the bears' dire situation. With the cooperation of the Montana Fish, Wildlife and Parks Department, the Zoo agreed to provide a home for the two grizzly bears, Kachina and Kiona, whose names in Native American dialect mean "sacred dancer" and "brown hills" respectively. At Hearst Grizzly Gulch, you'll also learn the tale of Monarch, the grizzly bear that was the inspiration for the San Francisco Zoo and whose image appears on the California state flag.
Recognized as the California state mammal and the symbol of the California state flag, the grizzly bear is now extinct in the state. Between 1800 and 1975, the grizzly bear population in the lower 48 states decreased from 50,000 to less than 1,000. The decline can be attributed to human development, livestock depredation control, commercial trapping and unregulated hunting.