Jones Family Gorilla Preserve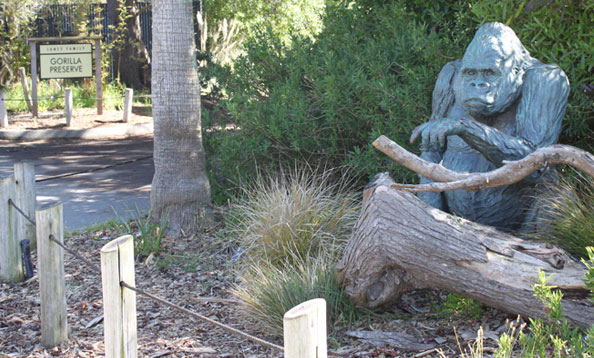 The Jones Family Gorilla Preserve is one of the largest and most exceptional habitats for western lowland gorillas in the country.
Covering nearly an acre of land, this lush expanse of trees, grasses and rocky outcroppings is home to three adult females: Bawang, Monifa and Kimani and a silverback male, Oscar Jonesy. This grouping replicates a gorilla family much as you see in the wild and has been brought together for breeding as part of the AZA's Species Survival Plan for western lowland gorillas. San Francisco Zoo & Gardens has had a successful and prolific breeding program since the 1950s that continues to this day.
A wall of viewing windows lets you see the gorillas up-close as they rest, play, eat and interact with one another. In addition, there are innovative graphics to help tell the story of these gentle giants.
A path links visitors directly from the Jones Family Gorilla Preserve to the Leanne B. Roberts African Savanna, where they can experience more of Africa's amazing wildlife.