Koret Animal Resource Center (ARC)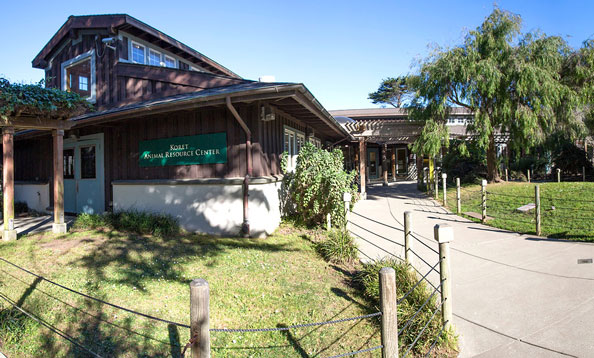 Our animal ambassadors play a key role in connecting our guests with wildlife, as they represent the only Zoo animals kids can actually see up-close and even touch. Over 100 birds, mammals, reptiles and amphibians are housed and cared for at the Koret Animal Resource Center (ARC), a working facility and key part of the Fisher Family Children's Zoo. The ARC is a training ground for future ecologists, conservationists, biologists, zoologists and animal care staff, through its teen, young adult and adult volunteer programs.
Outreach Programs
Educational outreach programs make up the ARC's primary role at the Zoo and in the community. These include:
ZooMobile – animals are taken to classrooms (or virtual classroom), and schools, often the first time many kids have seen exotic animals in person;
Nature Trail Teen Volunteer Program – guests can meet animals along the Nature Trail and learn from teen volunteers trained to care for animals, talk about them and answer guests questions;
Jr. Zoologist and ARC Interns – work in the ARC to care for the many animals, conduct training sessions and host presentations, such as Wildlife Theater shows
Volunteers are the Backbone
The ARC relies on the support of hundreds of volunteers, from teens to adults. 
ARC Facility
The ARC allows the public to see what has traditionally been behind-the-scenes. Viewing windows give visitors all year round a glimpse into this dynamic, working facility and its residents. Adjacent to the building, you can get extremely close to amazing raptors in their free-flight aviaries.
A Second Chance
What makes the ARC animals so appealing is hearing each animal's amazing personal story, most of which involve a second chance. Some were born under human care and could never be wild. Many are former pets whose owners could no longer care for them. Still others are injured wild animals unable to look after themselves. And all have an important message of conservation to tell.