South American Tropical Rainforest & Aviary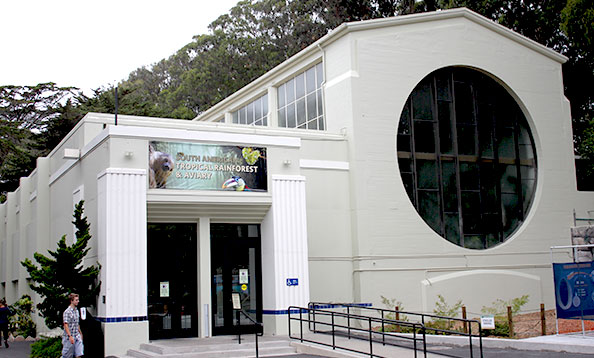 The renovated Aviary features a realistic rainforest ecosystem, full of colorful free-flight birds, exotic plants and trees, a charming two-toed sloth, and the Zoo's first significant herpetological collection—which will include a 15-foot long green anaconda as well as rare tree frogs, turtles, lizards, and snakes. The new exhibit highlights environmental threats facing rainforests, as well as the devastating effects of the illegal pet trade on South American wildlife. The new Aviary will immerse visitors in a realistic tropical environment and create a stunning new educational space at the Zoo.
This renovation project transformed the historic South American Tropical Forest building which is located on the northern side of the Zoo. This original depression-era WPA building was originally an aquatic birdhouse.
Current hours are 11 am – 4 pm daily, however hours are subject to change.
Click the links below for printable species guides, activities and resources perfect for families, individuals, and school groups.
Species Guides:
Tropical Rainforest and Aviary Reptile and Amphibian Guide
Tropical Rainforest and Aviary Bird Guide
Tropical Rainforest and Aviary Plant Guide
Resources and Activities:
Tropical Rainforest and Aviary Bingo
Tropical Rainforest and Aviary Scavenger Hunt