Dung Beetle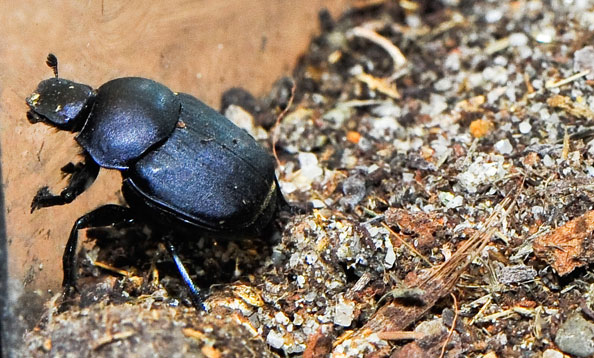 Fascinating Facts
These beetles belong to a family of better known and a far less repulsive name: scarabs, some 7,000 species of which are dung beetles. The scarab beetle of Egypt was inspired by a dung beetle, one of the species that roll their dung into neat balls for ease of transport.
Dung Beetles are found on all continents except Antarctica.
Dung beetles can roll up to 50 times their weight.
Physical Characteristics
They have 3-7 segmented, fan-like antennae, and powerful legs armed with teeth on the outer edge, an adaptation for digging.Larvae are grub-like with well-developed antennae and legs.
Habitat/Diet
Dung beetles live in many different habitats, including desert, farmland, forest, and grasslands. Wherever there is dung, from the tropics to the mountains, sea to shining sea, and every where in between!
In the wild, Dung beetles eat dung excreted by herbivores and omnivores, and prefer that produced by the former.They also eat plants, mushrooms and fruit.In the Zoo, mostly plants and dung.
Social Behavior
Most dung beetles search for dung using their sensitive sense of smell. Some of the smaller species simply attach themselves to the dung-providers to wait for their reward. After capturing the dung, a dung beetle will roll it, following a straight line despite all obstacles.
Adult dung beetles collect fresh dung and carry it to underground burrows where it provides food for developing larvae. They are so beneficial that some species have been imported to California to control cow manure buildup. Some species lay their eggs into the dung ball itself, others simply cover the egg with the dung, allowing the young to eat their way out.
Status In The Wild
Dung beetles are common and not endangered.
Other
Our dung beetles can be found at the Insect Zoo.