Pink-backed pelican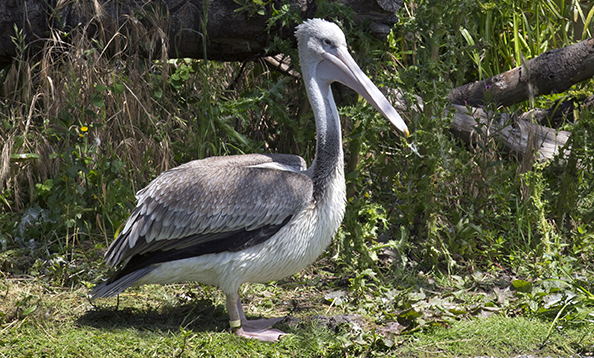 At the Zoo
You can find the Pink-backed pelicans in the lake surrounding Eagle Island, near Bear Country.
Fascinating Facts
The earliest known pelican fossils date back 30 – 40 million years ago.
Despite being one of the heaviest flying birds, pelicans can fly up to 24 hours non-stop and cover a distance of 300 miles.
Their distinctive pouch is used like a fishing net and not usually used for storing fish, as many believe. Pelicans will squeeze the water out of the pouch and swallow the fish whole. They also can use their pouch to dissipate heat in hot weather.
Due to their distinctive form, pelicans can be identified in many early myths and writings. In European medieval art they were seen as a symbol of mercy and altruism, and incorporated in many coat of arms.
Physical Characteristics
Pink-backed pelicans have mostly grey plumage with a pinkish back and underparts. The pink color comes from a gland and is spread while preening. Pink-backed pelicans are one of the smallest pelican species. They are approximately 49 – 51 inches in length, with a bill length of 11 – 15 inches and a wingspan of 7 – 9.5 feet. They weigh between 9 – 15.5 pounds, with females being slightly smaller than males. Pink-backed pelicans may live between 15 – 25 years in the wild and up to 54 years under human care.
Habitat/Diet
Pink-backed pelicans are found near freshwater lakes, rivers, ponds, swamps, particularly in shallower areas with plenty of vegetation. They range from Sub-Saharan Africa south to Botswana and the western Arabian Peninsula along the Red Sea.
They feed almost exclusively on fish and prefer smaller-sized fish, but have been observed eating fish weighing almost a pound. They forage alone and will ambush prey with a quick lunge.
Social Behavior
While pink-backed pelicans hunt for food alone or in small groups, they roost and breed in flocks. Breeding can take place year-round and unlike many pelican species, pink-backed pelicans nest in trees. After courtship, an average of two eggs are laid and incubated by both parents. Lacking a brood patch, pelicans use their feet to keep eggs warm. Both parents will help to raise the young, who will fledge between 70 – 85 days. Pink-backed pelicans reach sexual maturity between 3 – 5 years of age.
Status In The Wild
The IUCN has designated Pink-backed pelicans as Least Concern. Threats include draining wetlands, logging at nesting sites, and pollution.